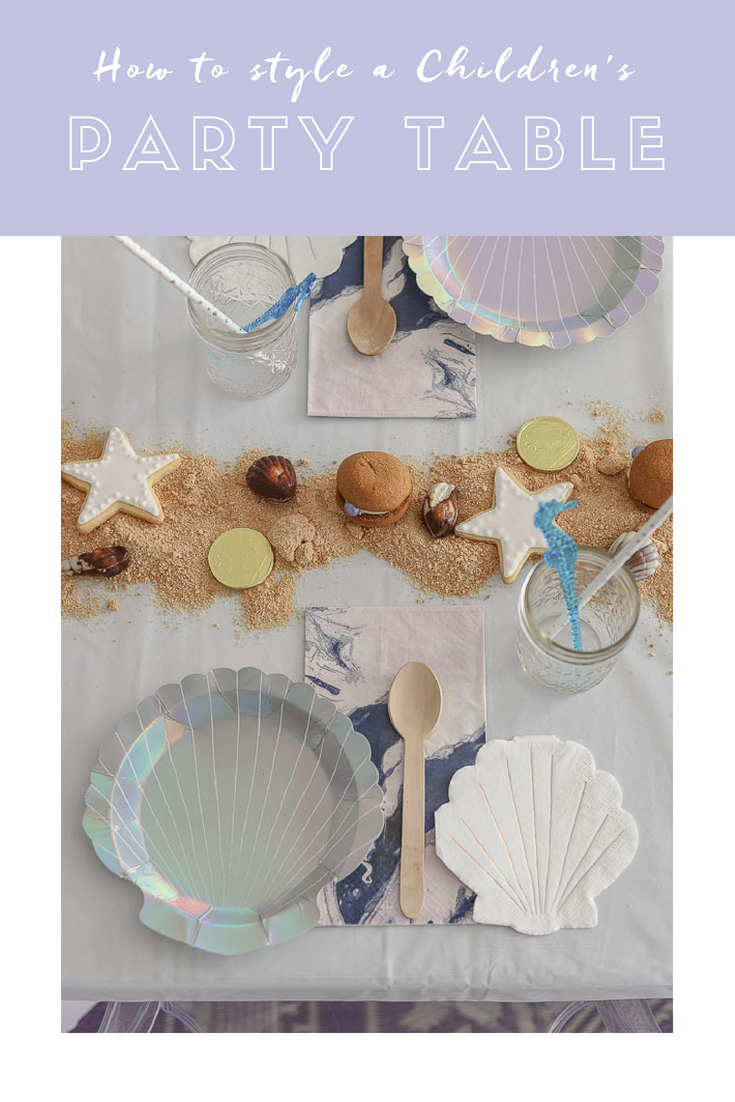 Styling Children's parties has been a passion for so long, I can't even think of how many I have done!  But I do really love to try and create different children's party table setting for different party times.
For styling Children's parties I break it down into 3 categories:
Decorations, Dessert/Food table and Children's Party Table.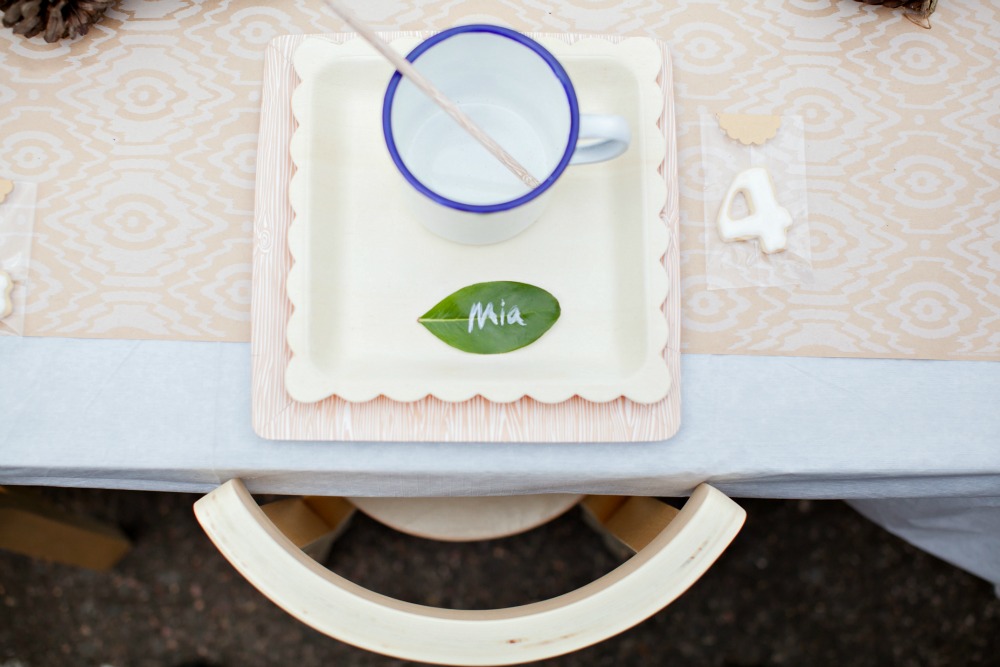 In this blog post I will be covering styling Children's party table settings, every time I have a party coming up I share bits of what Im preparing on my Instagram stories.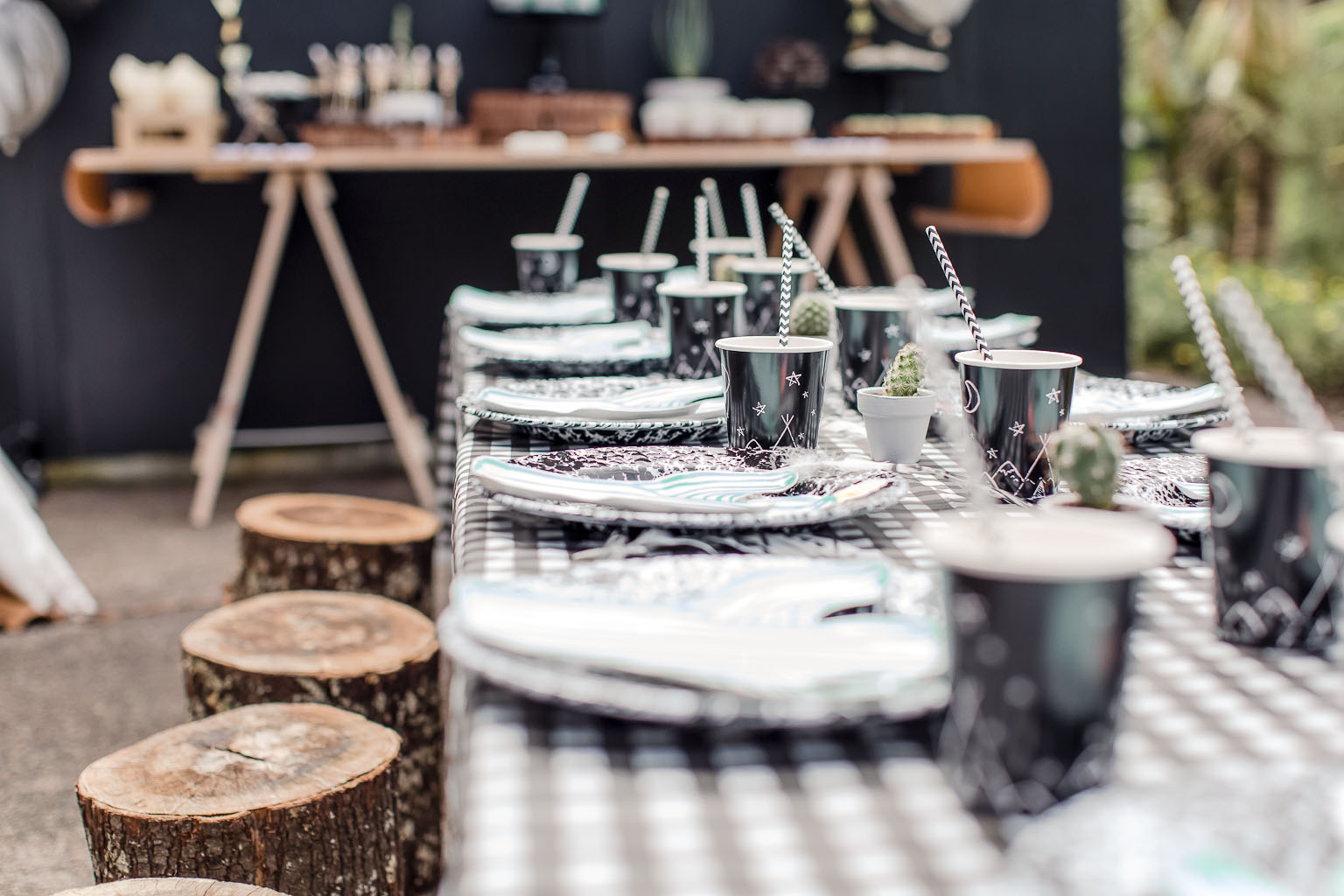 I'm hoping to cover everything but if you do have a question or suggestion of what I can add please comment below.
I will say this for every party planning blog post: 
I highly recommend buying items that can be re-used for every party, not only does this save money but it also is better for the environment! 
If you don't have the storage or can't afford to buy everything, hiring party items from The Style Aesthetic event party hire range is a great way to go!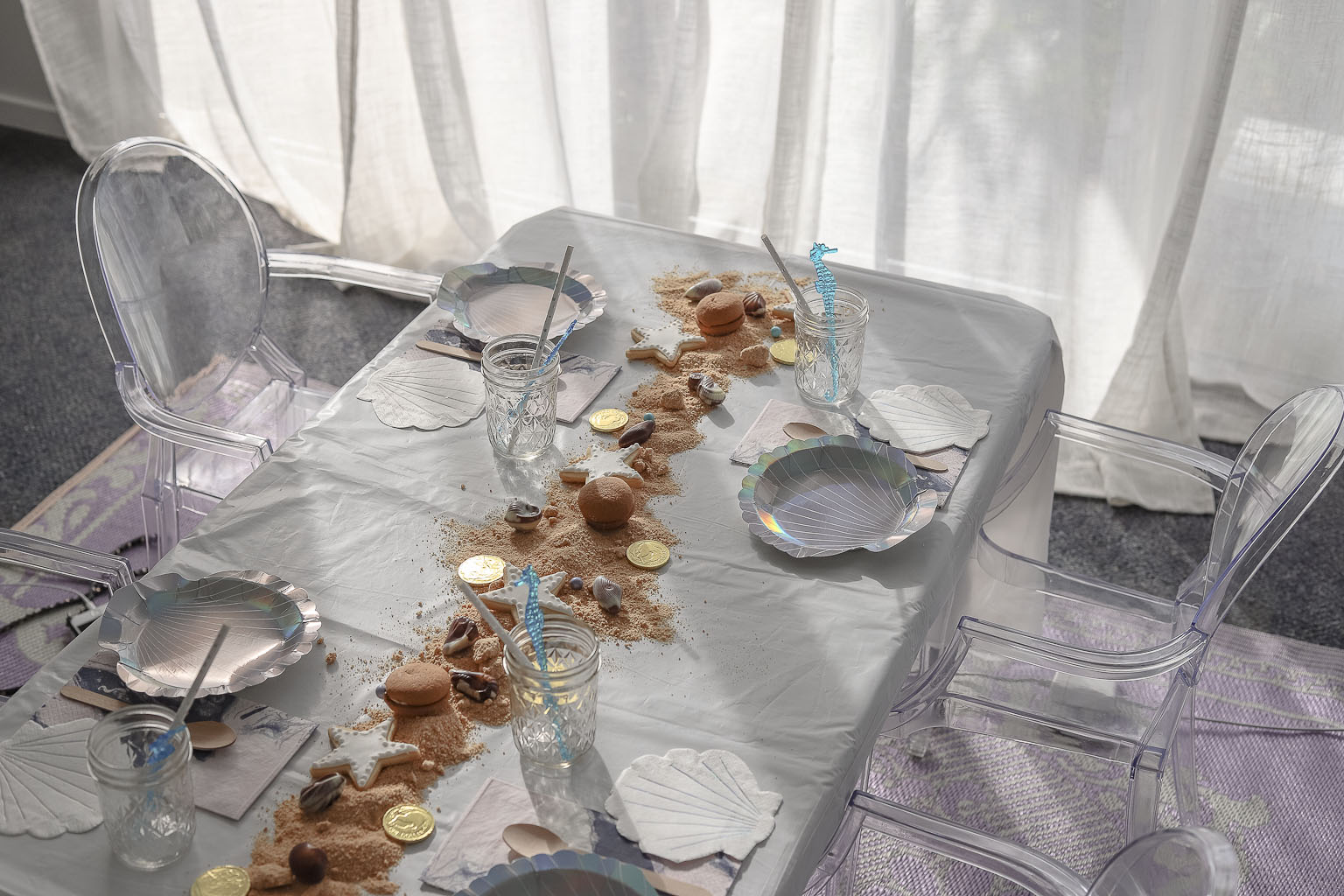 PARTY TABLE SETTING
I will start by listing pretty much what I use every time on the Children's party table:
Table cover
I personally mainly use white as it goes with everything and it also gives you more freedom with the table setting party supplies.  Buy a single white bed sheet or table cloth is a great way to reuse a tablecloth for every party!
Plates
Paper plates are perfect for styling a themed birthday party, you can also add them to your compost.  I prefer paper plates over plastic, but after the party you can rinse off the party food and pop the plastic plates in the recycling.  Also buying or hiring enamel plates is a great idea.
Napkins
Napkins are a cute way to incorporate a party theme but are also great plain and perfect for wiping sticky faces, don't forget to pop these in the compost too after a party!
Cup/Glass with straw
I generally use mini milk bottles or glass jars more often than paper cups, I prefer paper cups over plastic (like the plates I mentioned above).  For jars or bottles you can add name tags so they don't get mixed up, glassware also looks pretty with drinks in it for photos!
Place names
If you would like the children to be seated in particular places, place names make it easy!  Use folded card and get your child to write their friends names on the place name card or print some off (Etsy is a great place to get some from).  In my hire collection I have log place name holders which are cute for a more natural styled look.
Party Favour or decoration
Depending on your party favours or if you don't even do them but you want to add something token like a headband/crown, bubbles, lollipop etc you can place these on the children's plate instead of creating a party bag.
Centrepieces
This is your opportunity to take your party styling to another level by adding in pieces to highlight the party theme, when thinking of what to use incorporating food is always a winner and be aware of things that could be easy for the children to knock over by accident.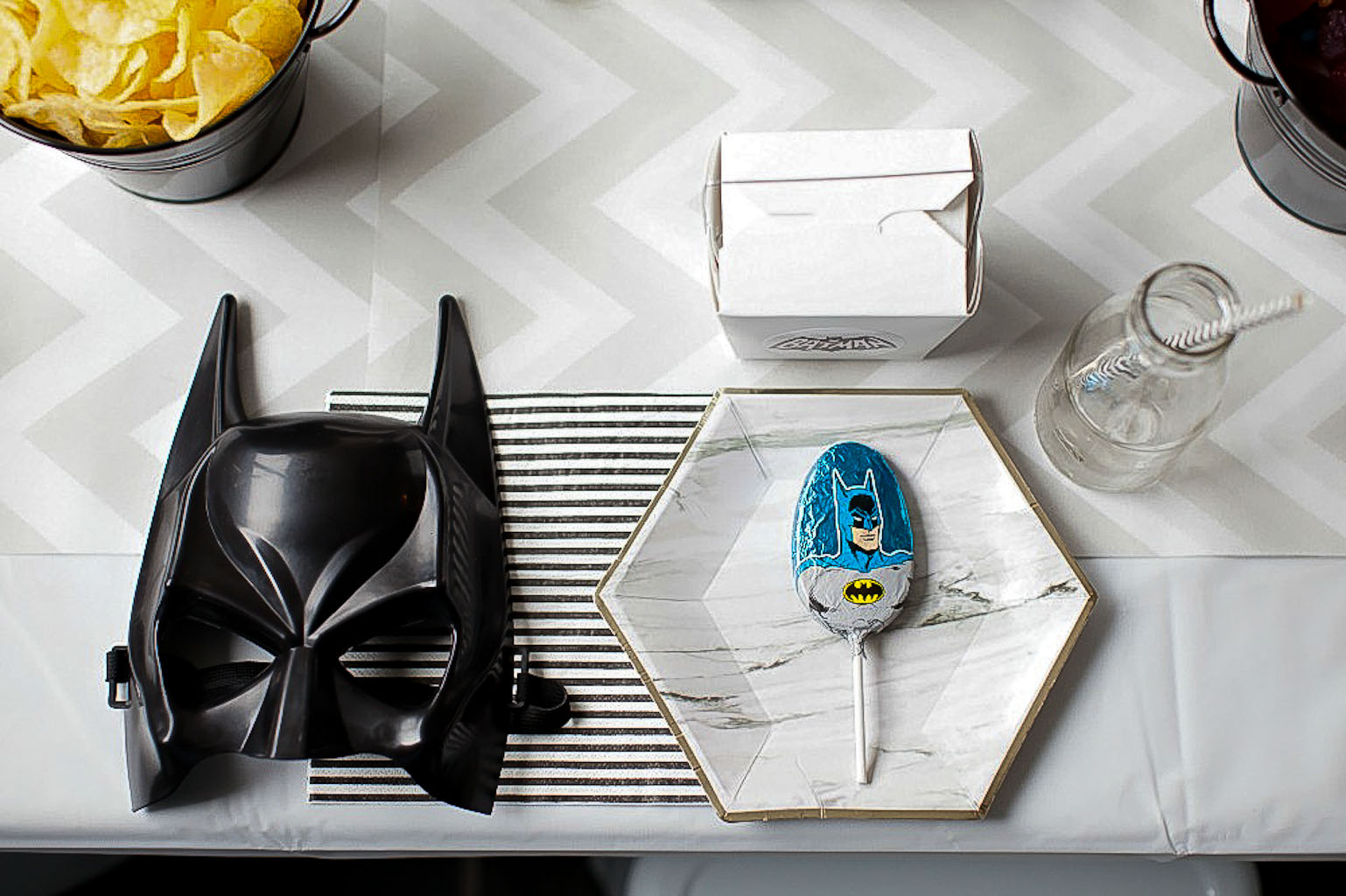 For Beau's Batman party I incorporated the party favours into the table setting, the kids could take home the bat masks and the batman lollipop.
STYLING THE TABLE
To start I work from the base up or I will also first choose the party plates then the table cover.  These plates will usually be the main feature for the party theme or used as a combo with napkins and or with a table cover it will pull a theme together as a combo of products instead of just the plate being the party table setting 'hero' item.
Once I have chosen my plates I then work from the table cover up, and think of everything as layers:
1/ Contrast the plates to the table cover so the plate stands out but not too much as I shy away from visual chaos.  Using a larger charger plate under a smaller paper plate also adds contrast and dimension to the table setting.  See below Beau's Pow Wow Party photo with the cactus plates.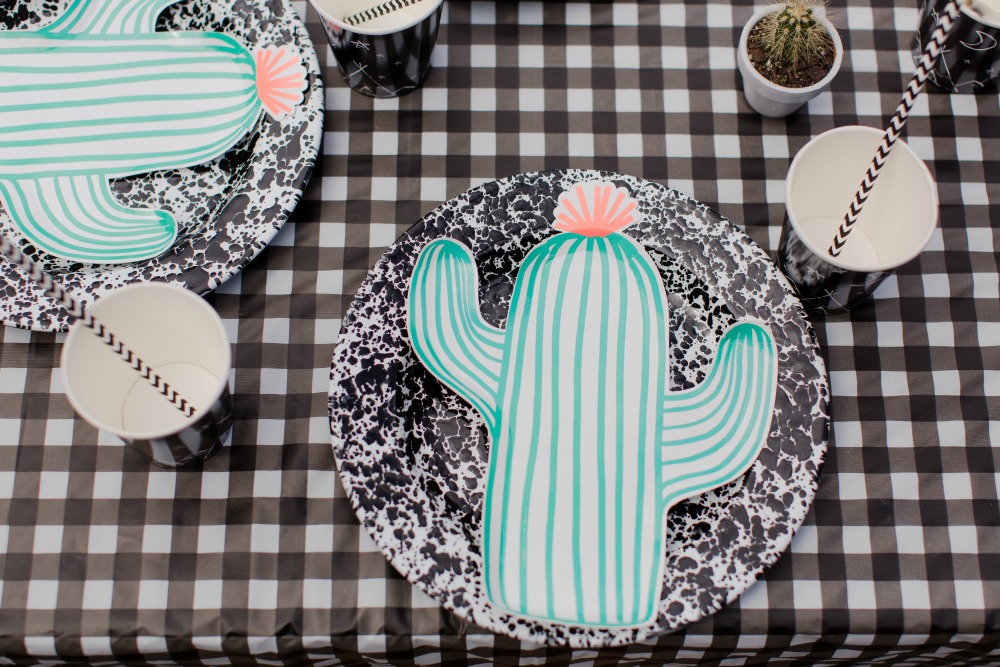 Beau's Pow Wow Party table was rather busy with I keep it more simple by working with monochrome but mixing up patterns: gingham table cover, marble charger plate, black themed paper cup, black chevron straws with the 'hero' cactus paper plates.
2/ Work with the plates and chose the table cover to layer/add in the napkins, cups/bottles/glasses with the straw and cutlery if using.  I make sure all of these items work together if not I will remove something e.g if the napkins aren't working, I will remove them from the kids table and add them to the dessert/food table or drinks table.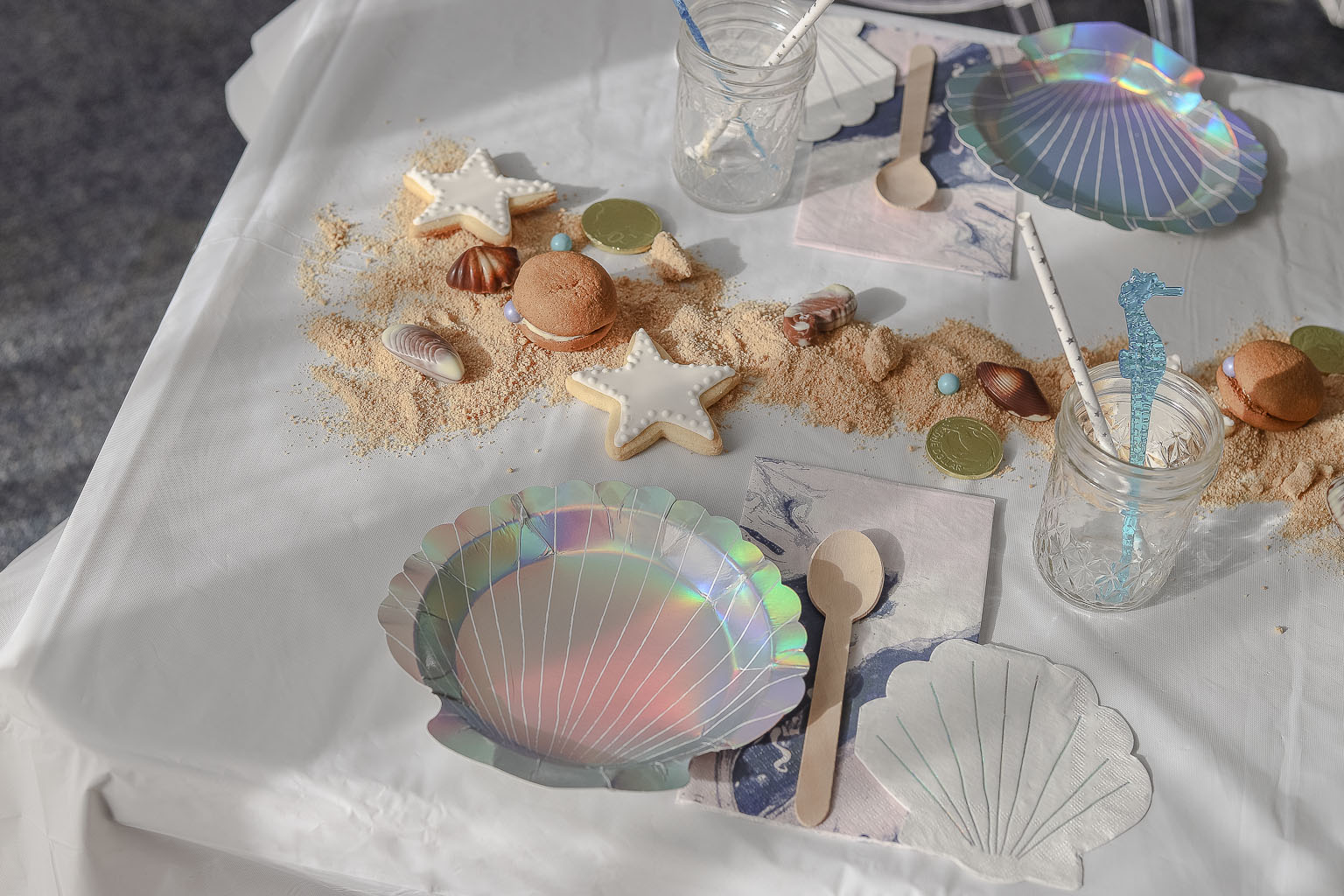 For Coco's Under the Sea party I used two types of napkins to layer as a combo with the plate and wooden spoon which I feel really tied in with the theme and colour scheme!  As shark jellies were on the menu I placed the wooden spoons in the table setting to make it easier for the children.
3/ Depending on the plate and napkin size I like to play around with the layout, sometimes I pop half of the napkin under the plate, or fold the napkin in half, place the napkin on the side with the bottle on top etc.  Just play around with the layout until you think it looks best!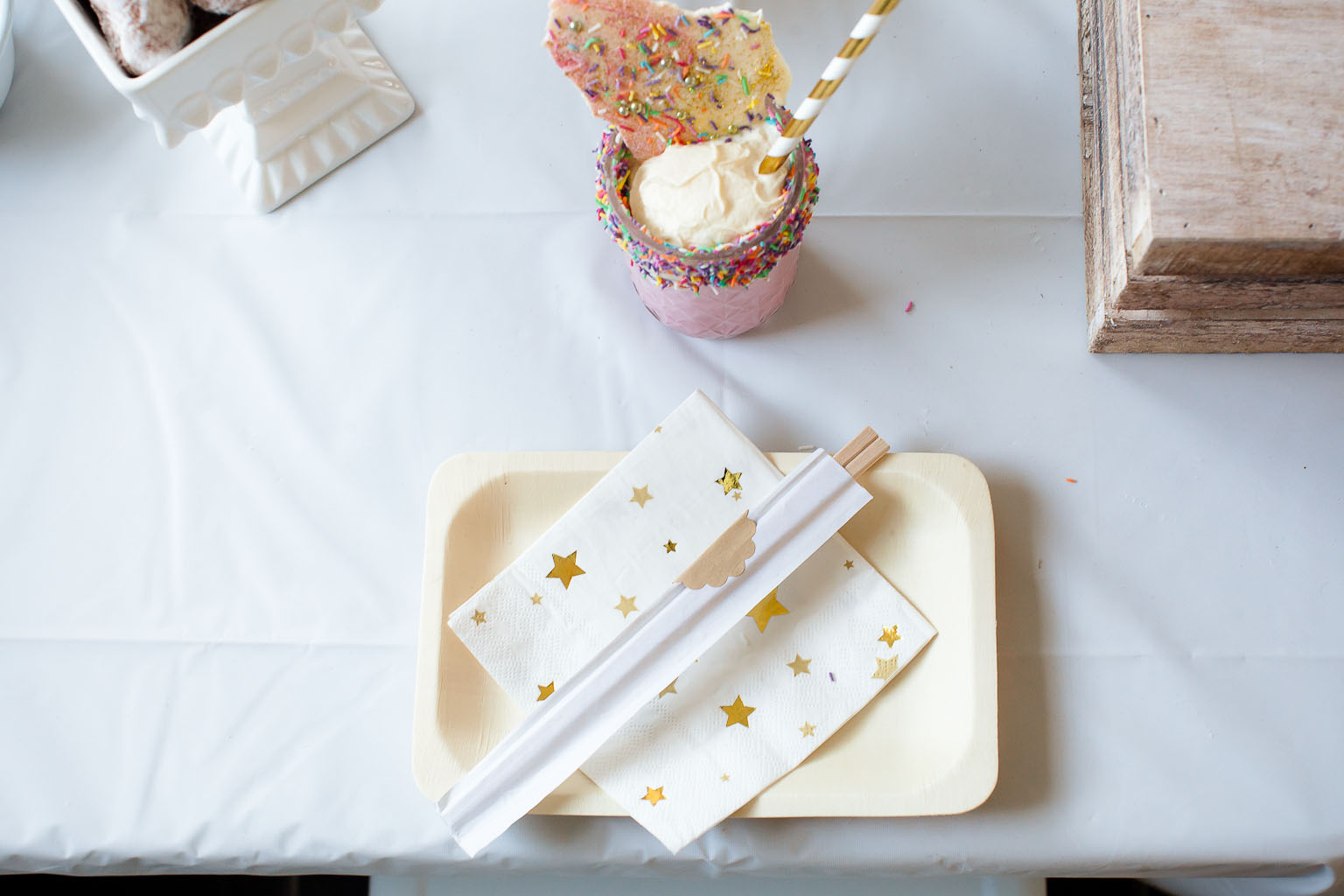 4/ Once I feel happy with each table setting I decide on the centrepiece.  Sometimes I leave it blank, or place something simple fitting in the theme in the centre of the table to weigh down the table cover if its outdoors and particularly windy, other times I will place food and things like tomato sauce so the kids down have to get up from the table all the time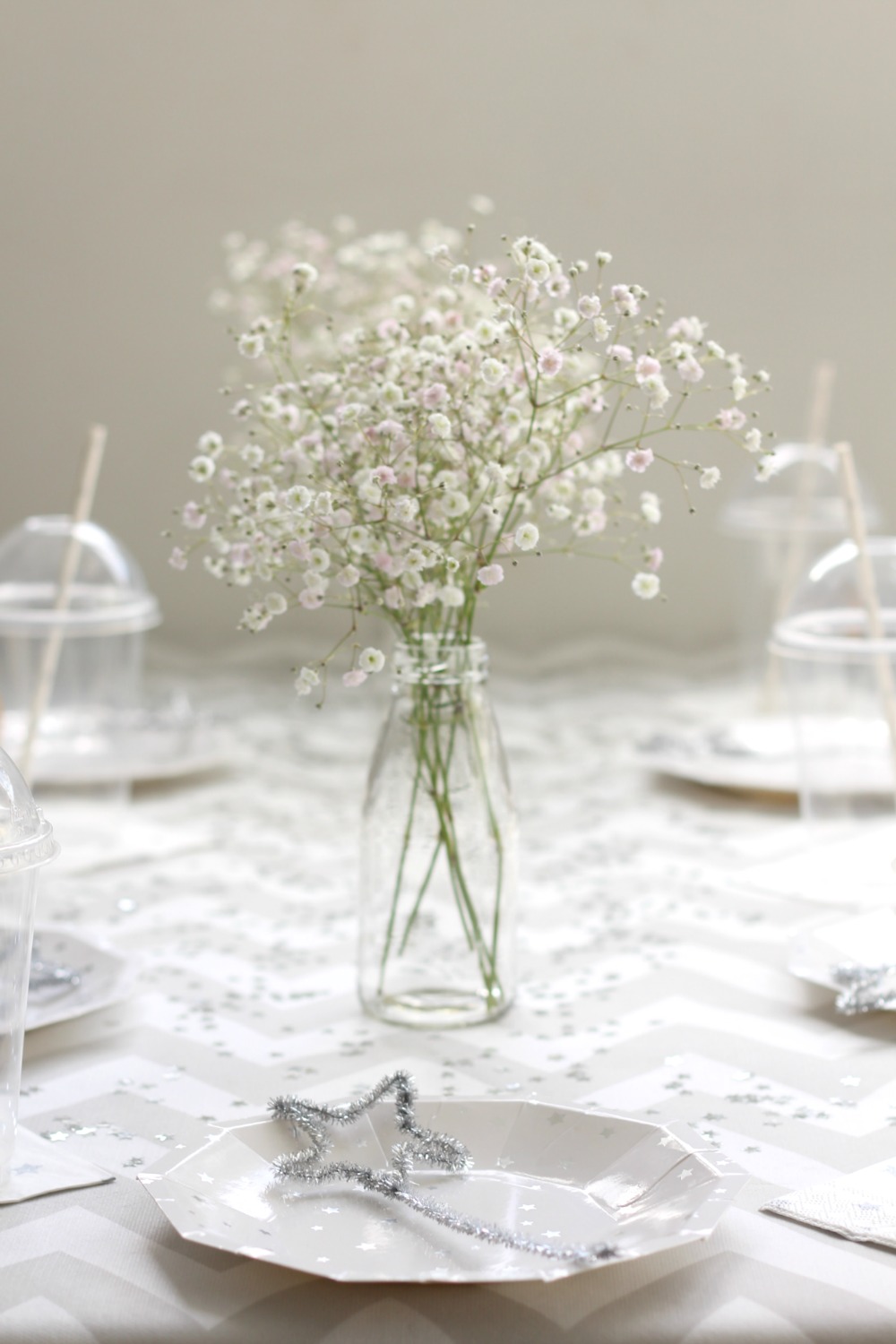 THINGS TO CONSIDER
-Buy classic re-usable items like white cake stands or hire the party goods like furniture, cake stands, drink dispensers etc.
-Party essentials like plates, cups, napkins, straws are a perfect way to incorporate a theme, each item doesn't have to be in theme..  for example buy a themed paper plate, plain napkins, mini milk bottle and a themed/pattern straw. Sometimes it can be a visual overkill if everything is matchy matchy!
-When setting the table consider how close the children will be sitting, whether items are easy for children to knock over or if they could possibly be elbowing each other.
-If the children are younger and or you are in a small space, try and serve up as much as you can on the children's party table to save lots of getting up from the table and moving around.
-Serving small portions of sauces etc for hot food in small cupcake cups or mini bowls on the table makes it easy for children.
-Serving food for adults things like crackers and cheese, a small grazing platter, a salad served in small noodle boxes with a wooden fork tied to the box.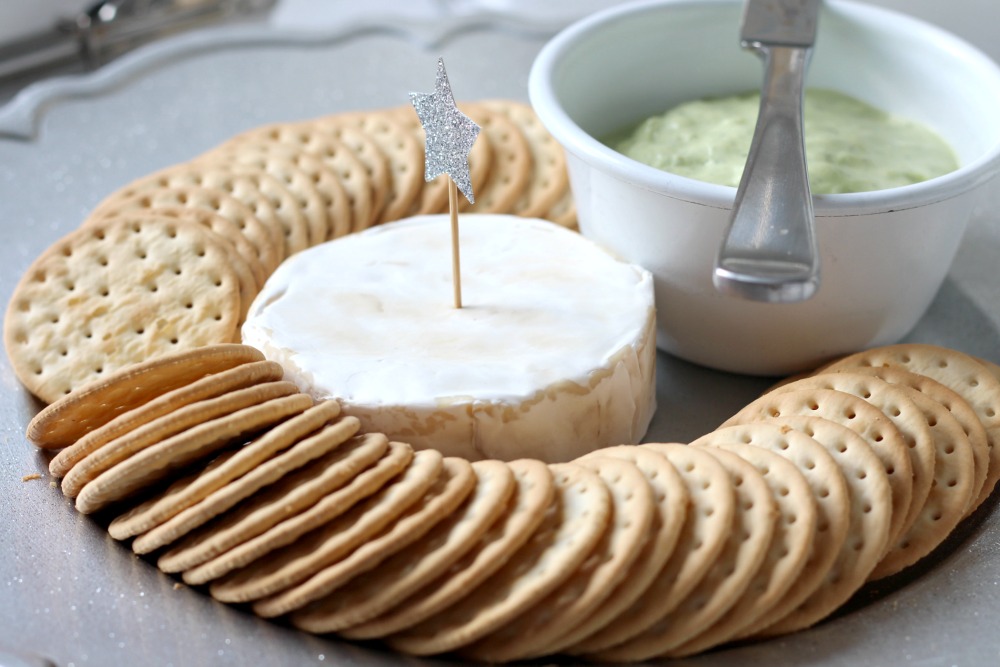 TIPS
-If you can't find table partyware in theme buy plain items in your colour scheme.
-Layering tableware is your best friend.
-If you are hosting a party outside, weigh down your party table cloth with heavy centre pieces and or items on the plates incase the wind picks up.  If weighing down the table covers doesn't work with your theme tape the table cover down under neath the table.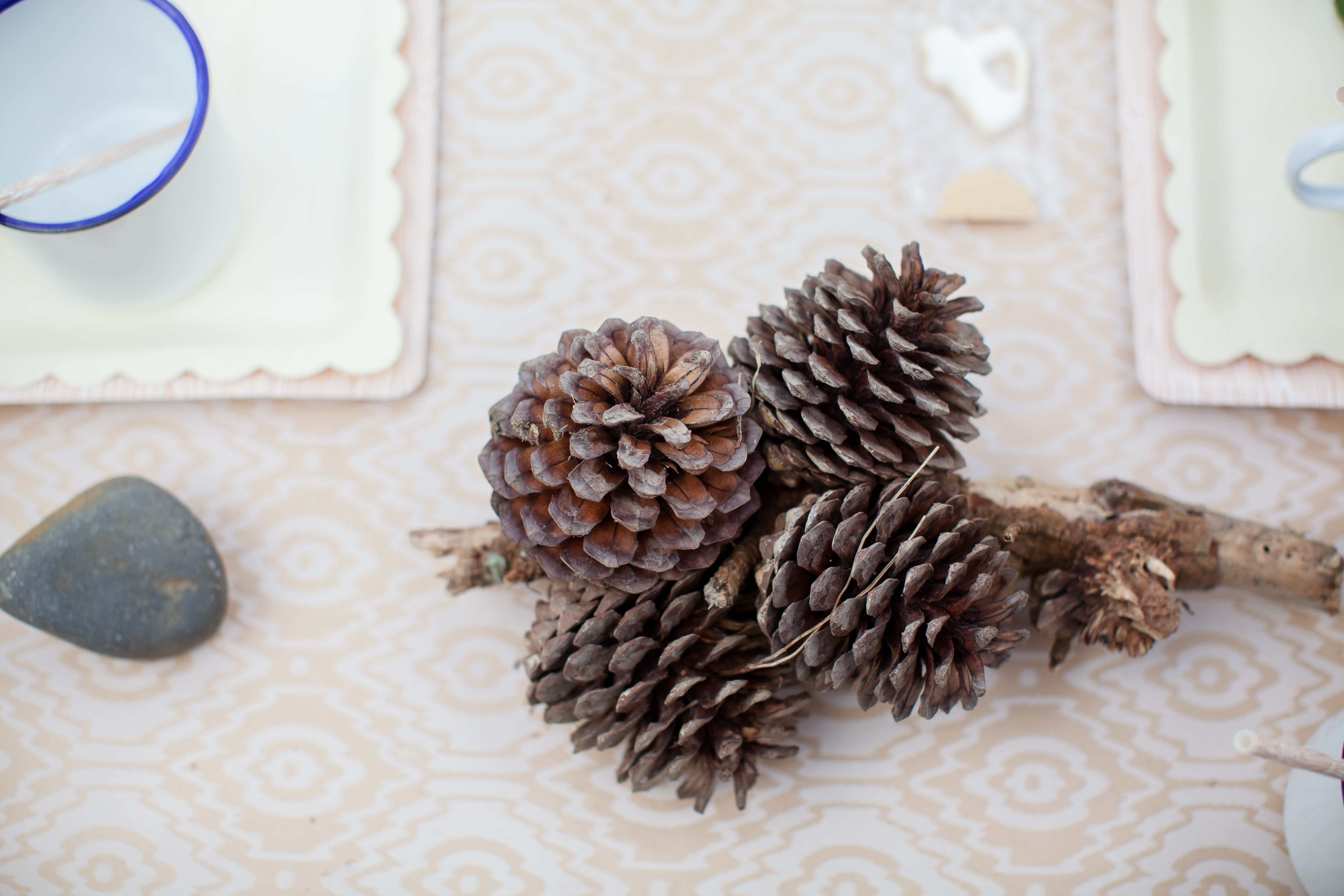 -If you don't want the fuss of a elaborate table setting, creating party snack boxes are ideal!  These can be prepared earlier and named with party treats and then placed on the table with a drink
-Pre-pour drinks or plate food for the kids at the table so they don't have to get up, they can just enjoy eating!
-Treat the cake as a large portion of the sweet food available and or cut up pieces for everyone to take home as favours!
Happy party planning!!