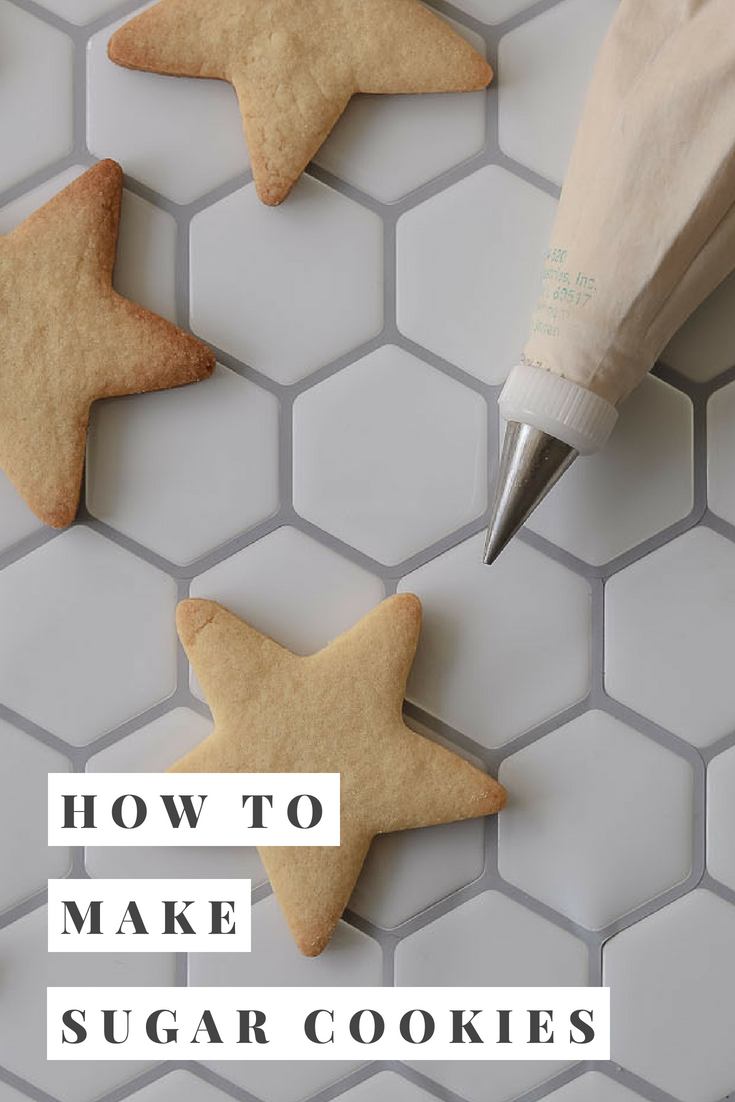 I make sugar cookies for every birthday party I host, I get asked a lot on Instagram how I make these cookies so here's the blog post on how I make and decorate sugar cookies!
I love how easy these cookies are too make and how versatile they are to decorate for any themed birthday party!
They also make perfect class gifts and party favors!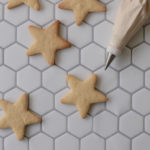 SUGAR COOKIES
I love how easy these cookies are too make and how versatile they are to decorate for any themed birthday party! This recipe is great because you don't have to chill the dough in the fridge and they taste so good!
Ingredients
250

grams

butter

soften

1

cup

white sugar

2

egg yolks

save the whites for the royal icing

2

teaspoons

vanilla extract

3

cups

plain flour

1

teaspoon

baking powder
ROYAL ICING
2

egg whites

500

grams

icing sugar

2

teaspoons

lemon juice
Instructions
Preheat oven to 180ºc. Line two baking trays with baking paper.

Cream butter and sugar in a cake mixer until pale and fluffy.

Add in the egg yolks and vanilla then mix to combine.

Add the flour and baking powder and mix to a firm dough.

Sprinkle the bench with flour and roll out a portion of the dough to about 5mm, I normally use a good handful of dough at a time.

Using your chosen cookie cutters cut out the shapes and gently lift the cut cookie dough onto the baking tray with a fish slice.

Bake for 10 -15 minutes or until lightly golden. Remove from the oven and leave to cool for 5 minutes on the tray then transfer to a wire rack.
To Make The Royal Icing
Whisk the egg whites with a cake mixer (with whisk attachment) or handheld mixer, until light and frothy.

Gradually add in the icing sugar then add the lemon juice.

Beat at high speed until thick, fluffy and shiny.
Recipe Notes
Note: this icing is not suitable for pregnant women as it contains raw egg.
If you don't have any suitable cookie cutters, you can use playdough cutters, tin cans or drinking glasses.
You can make these cookies 1-2 weeks in advance and store them in a airtight container before icing.
Royal Iced Sugar Cookies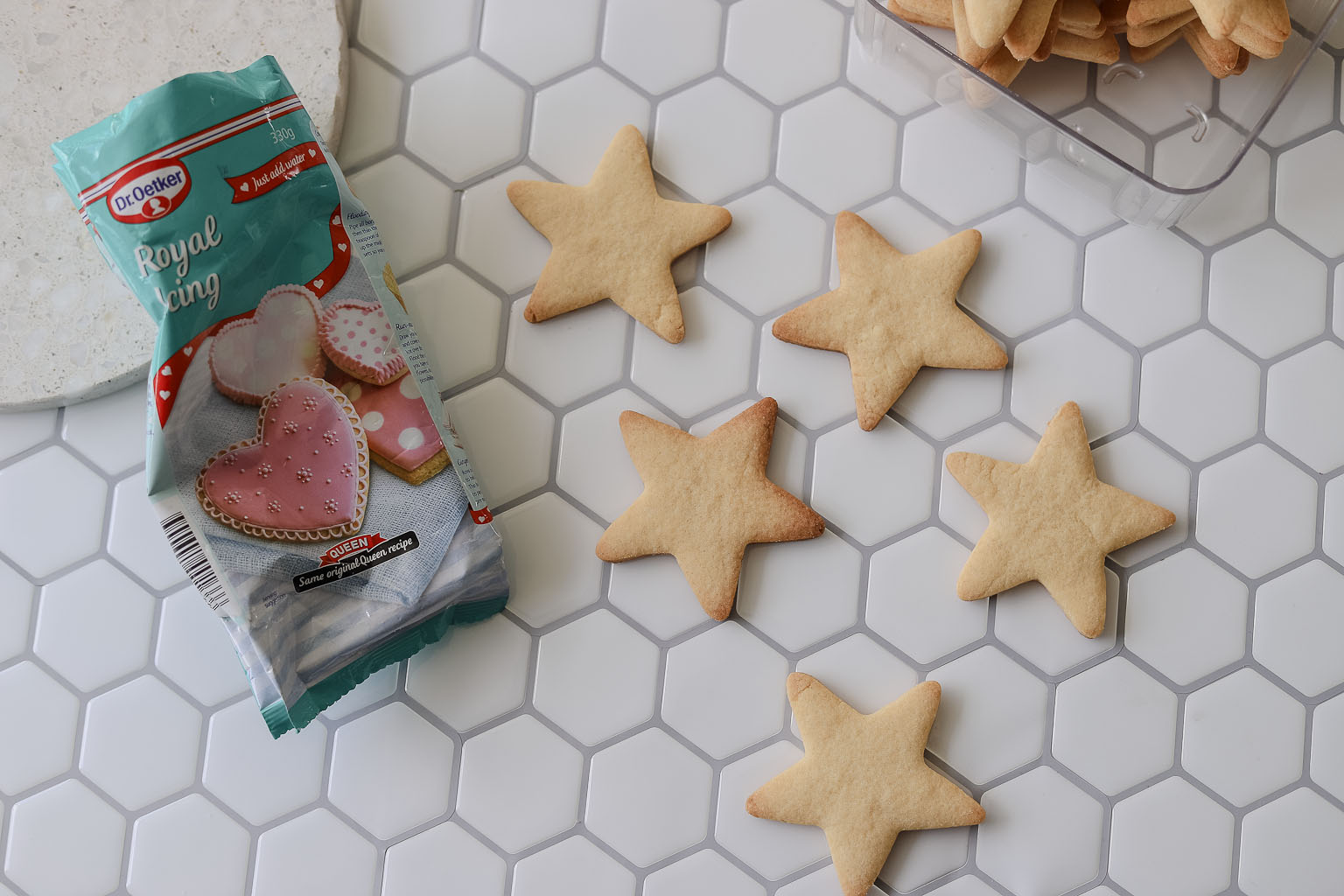 For Coco's Kindy leaving gifts I made these star shaped sugar cookies and decorated them as starfish using Royal icing. The left over cookies were used for her under the sea party.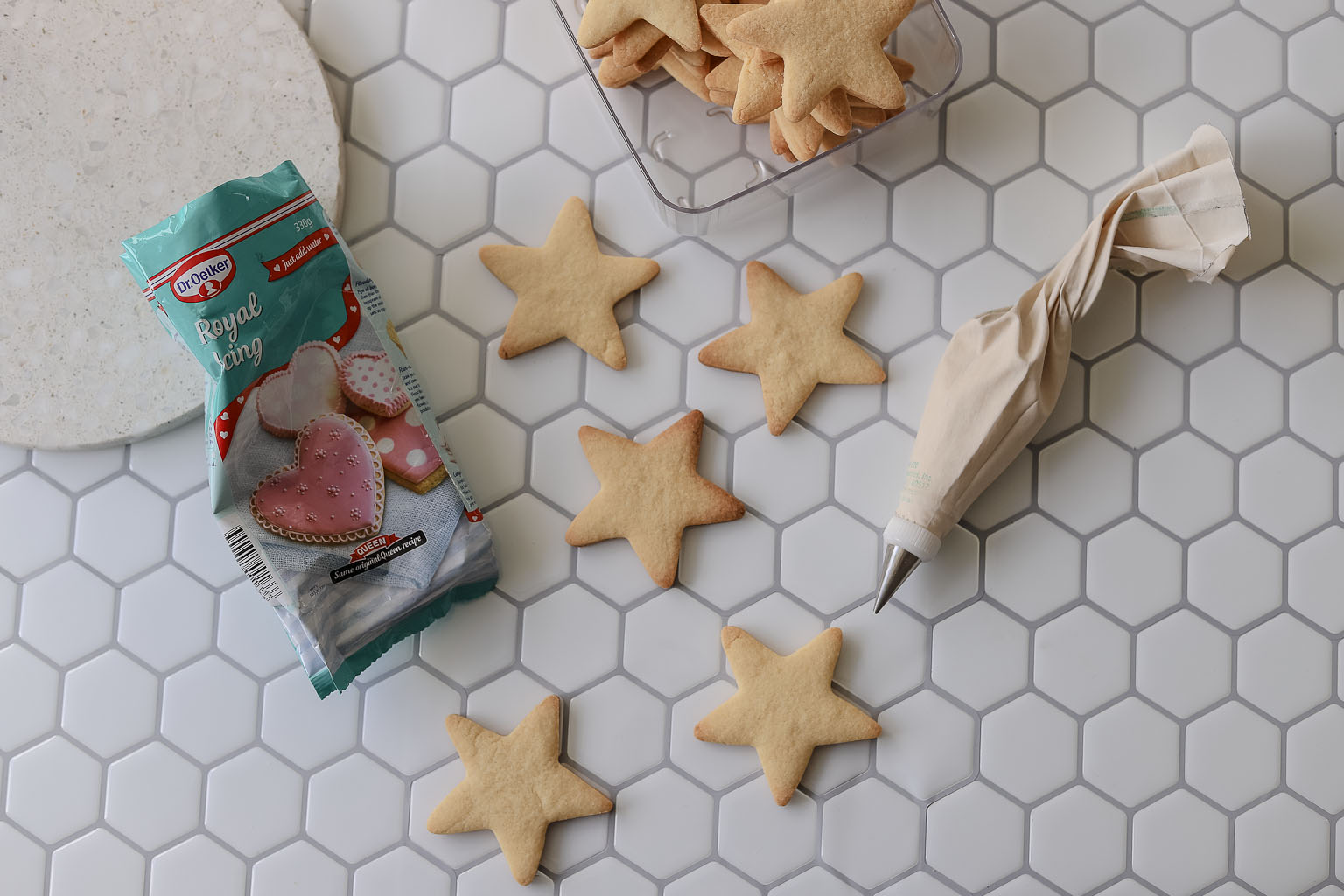 Depending on the look I'm wanting I use Royal or Fondant icing. For these starfish cookies I decorated using Royal icing. I usually buy premixed icing from the supermarket like this brand Dr. Oetker from Countdown but if you would like to make it from scratch the recipe is above.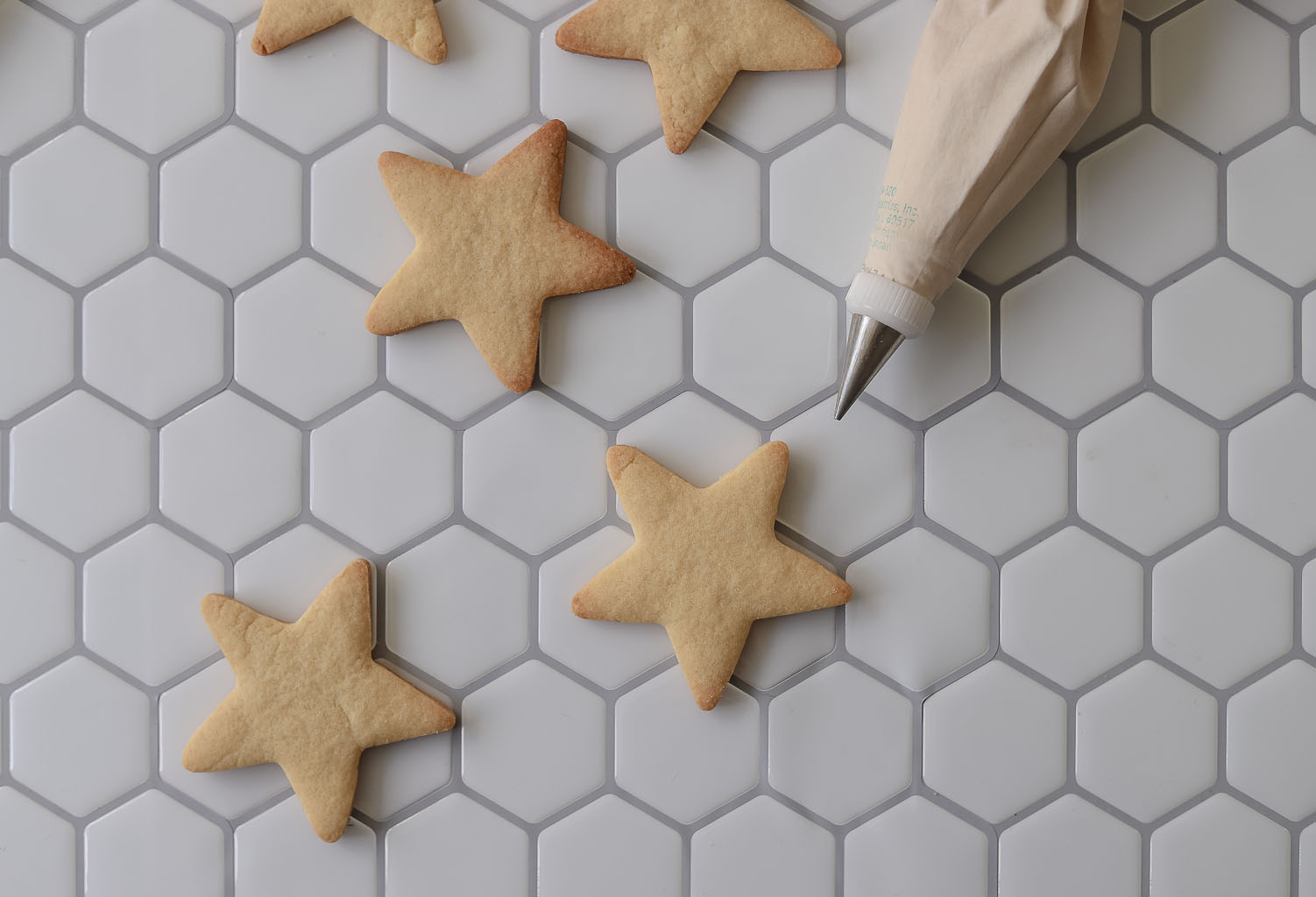 If you make the royal icing from scratch save the egg yolks and make my brioche.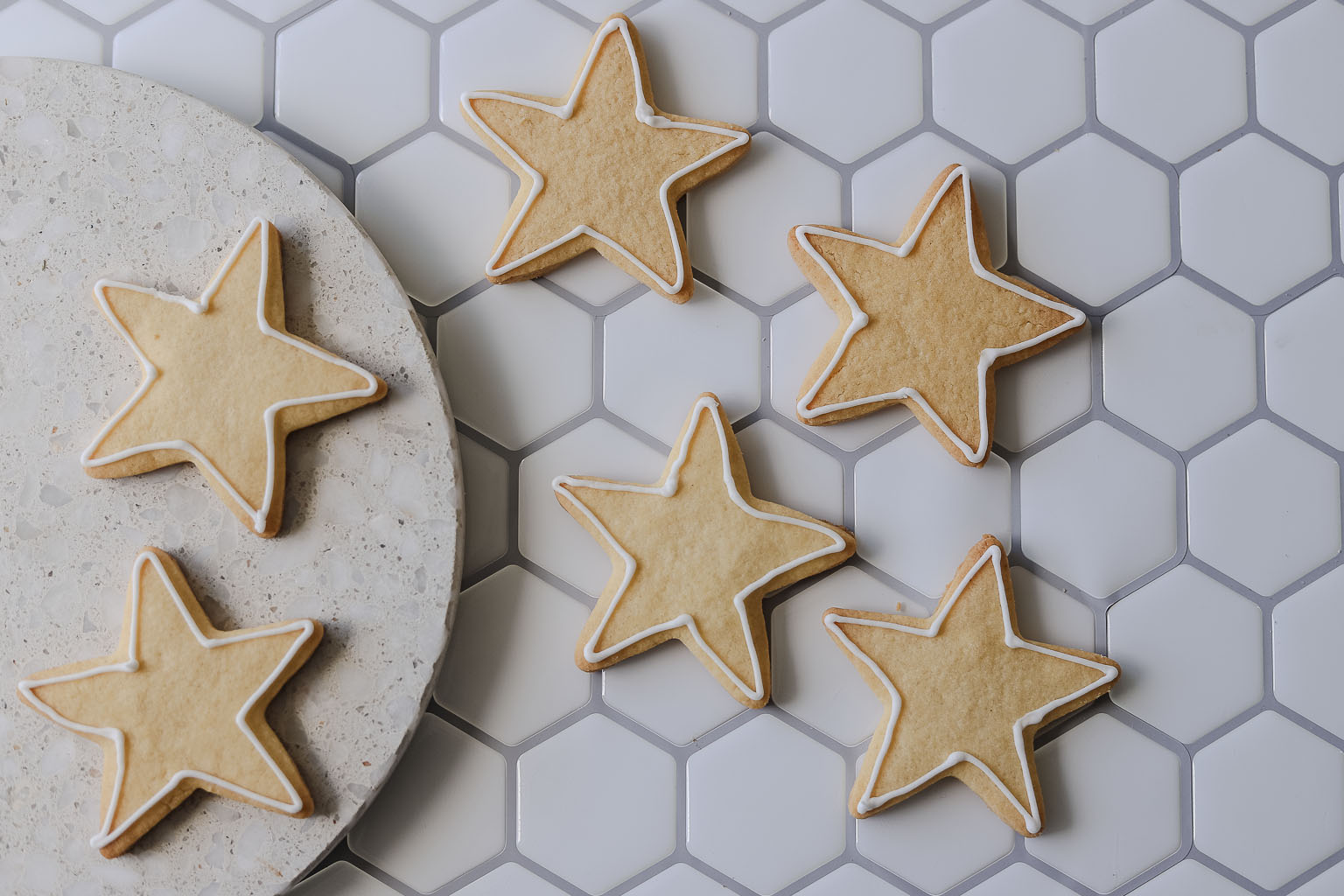 I personally like to roll out about a handful of dough at a time to about 4mm thick, then cut using whatever cookies cutters I've chosen and gently transfer the cookies to baking tray lined with baking paper (and repeat until finished)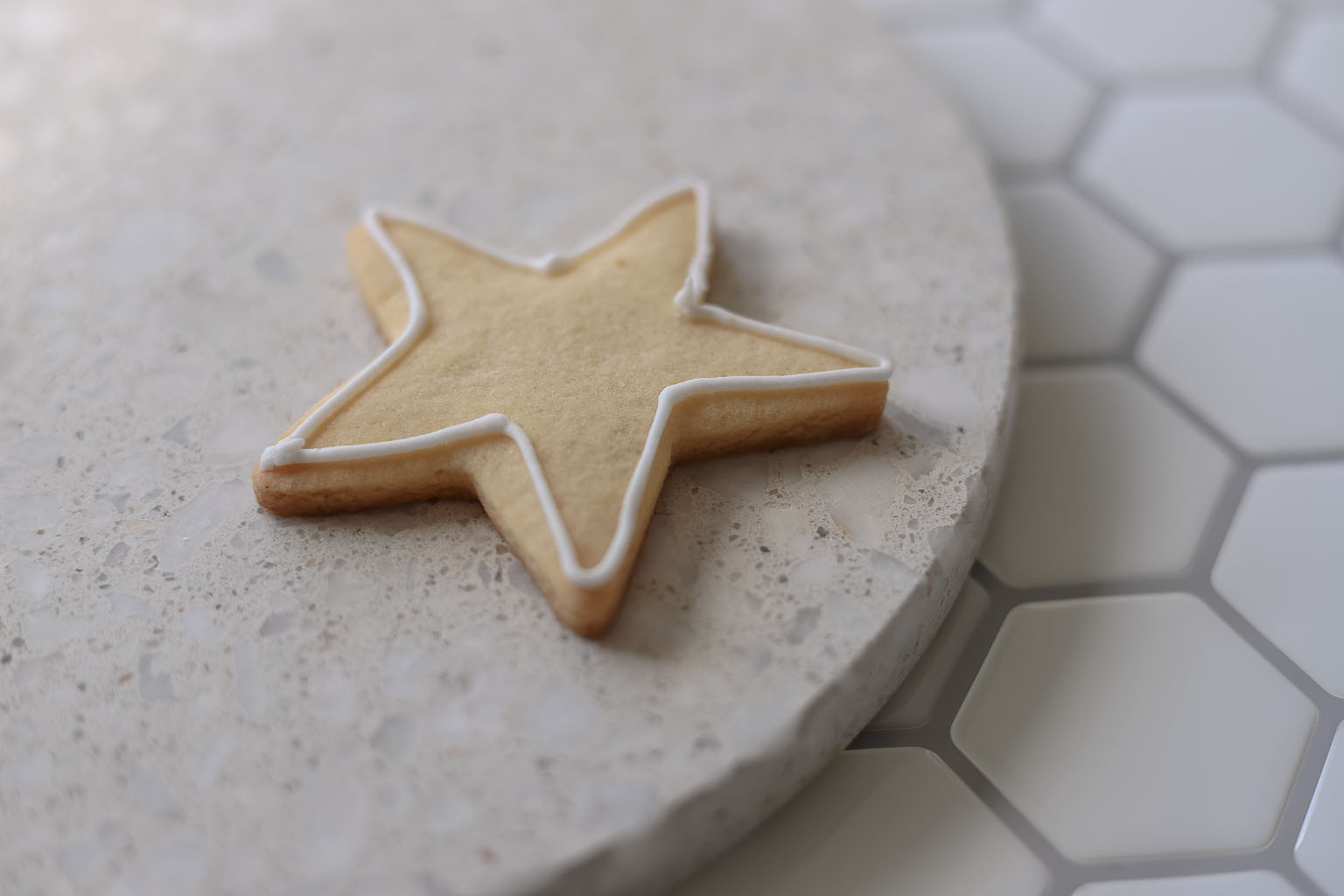 I use the Wilton round tip no.2 (or no.3 if you want a thicker line) for the outline of the cookie and then tip no.4 to flood (fill in the icing) the cookie.
Follow the instructions of the royal icing packet or recipe and add colour if using (I prefer the Americolor, but wilton gel colours are good too)
Place your icing bag (I prefer the Wilton 12inch re-usable bags) in a tall glass to fill with icing and store in between handling the bag, so the contents don't fall out.
I ice the outline over every cookie then water down the rest of the royal icing (for flooding) with lemon juice/or water, you just want it slightly runny (not too runny) if your not sure test it on a cookie and if its too runny add a bit more icing sugar. Then flood the rest of the cookie with the no.4 wilton tip. Use a toothpick spread the icing to cover up extra blank spots and gently tap the cookie to flatten the icing for a smooth finish.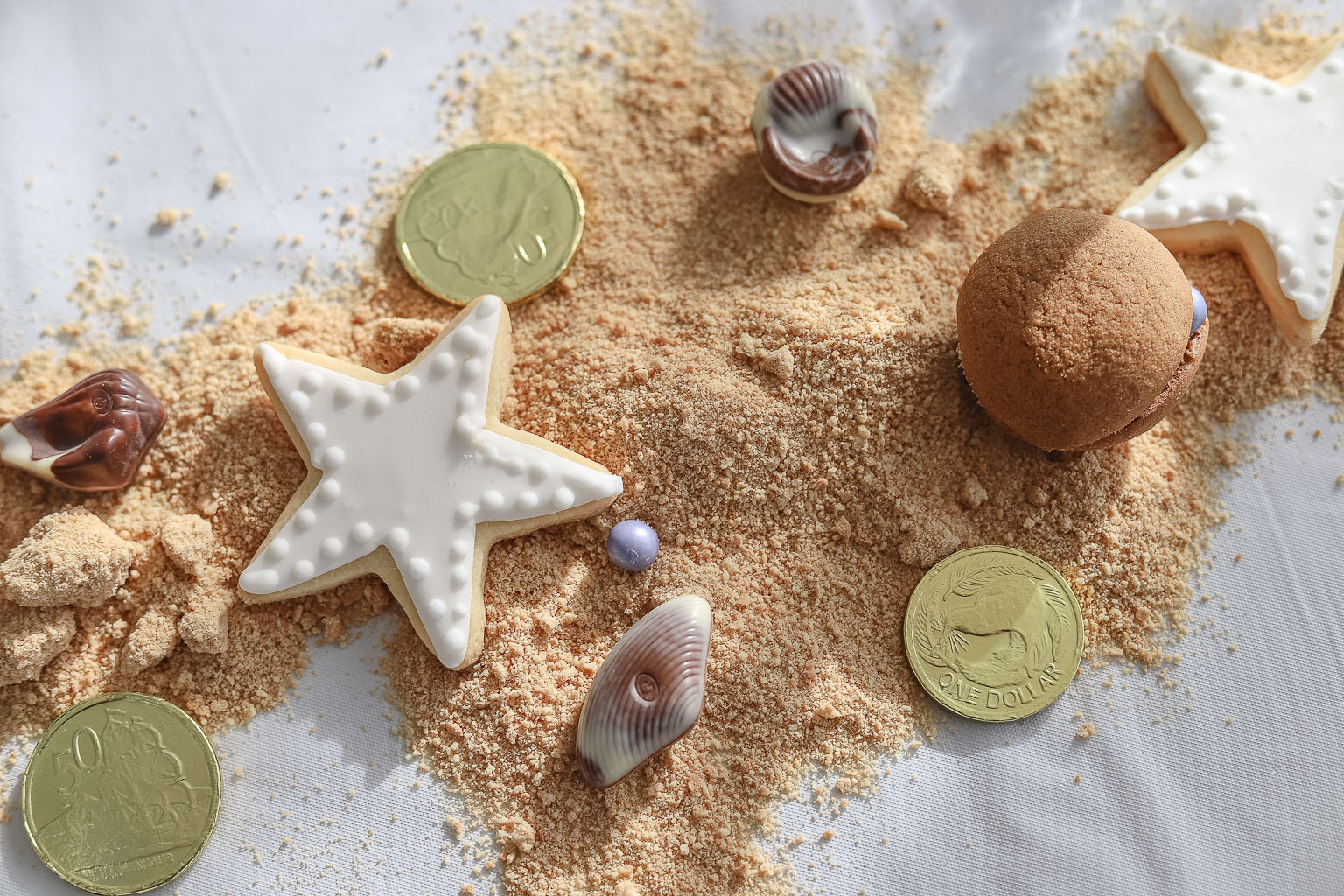 Once the icing had set, I added dots of icing around the edge of these starfish cookies.
Leave your cookies to set over night and then store in a airtight container.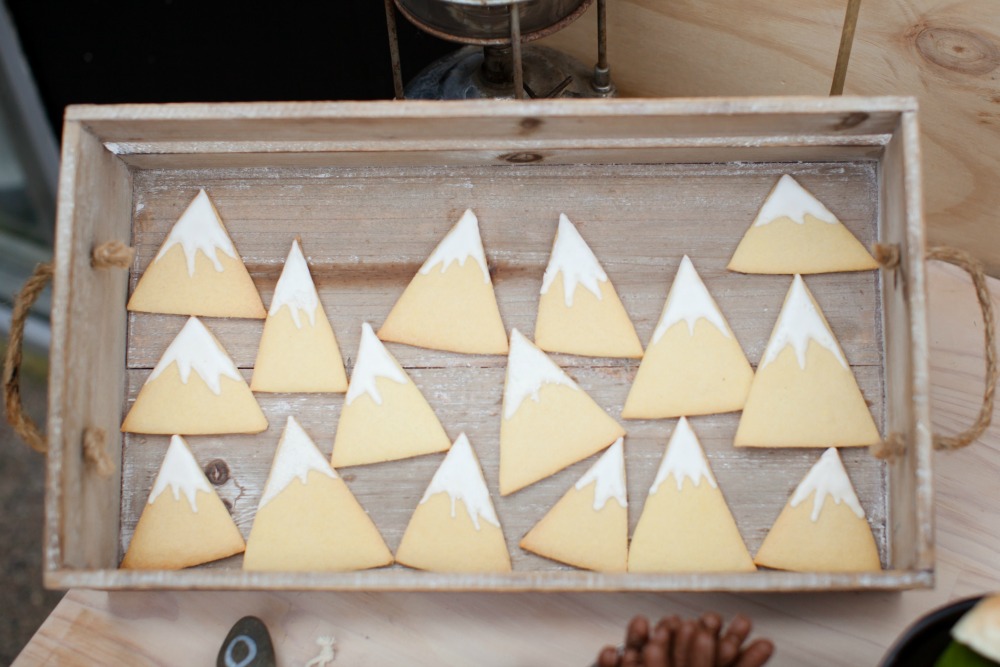 If you want a great step by step guide you can buy the Alison Show Cookie Party royal icing tutorial online course, its great I've brought it!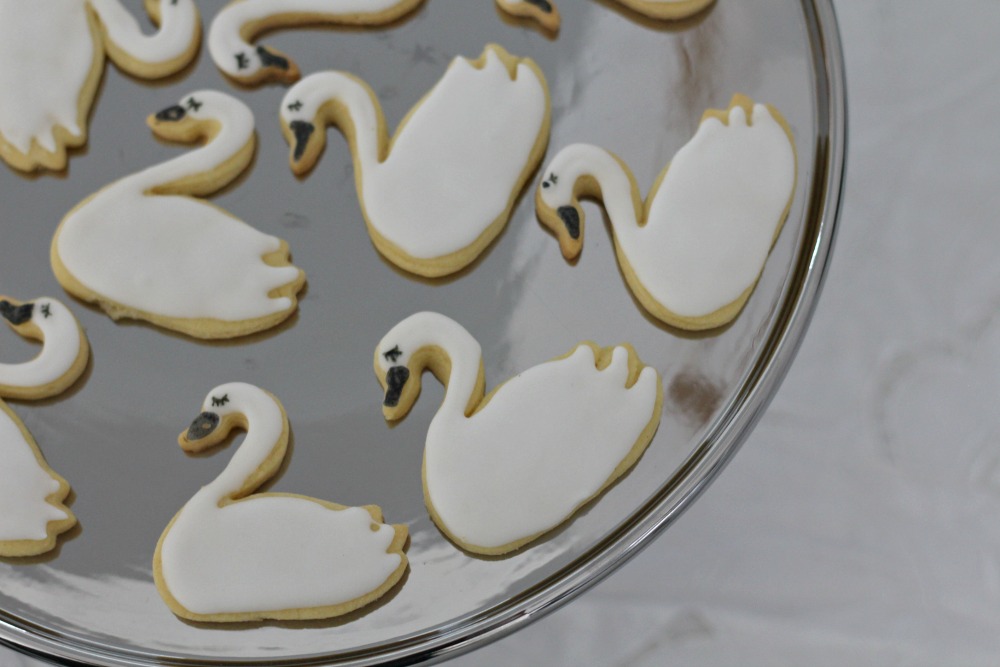 What I love about sugar cookies is the fact they last so long (2-3 weeks) and still taste great!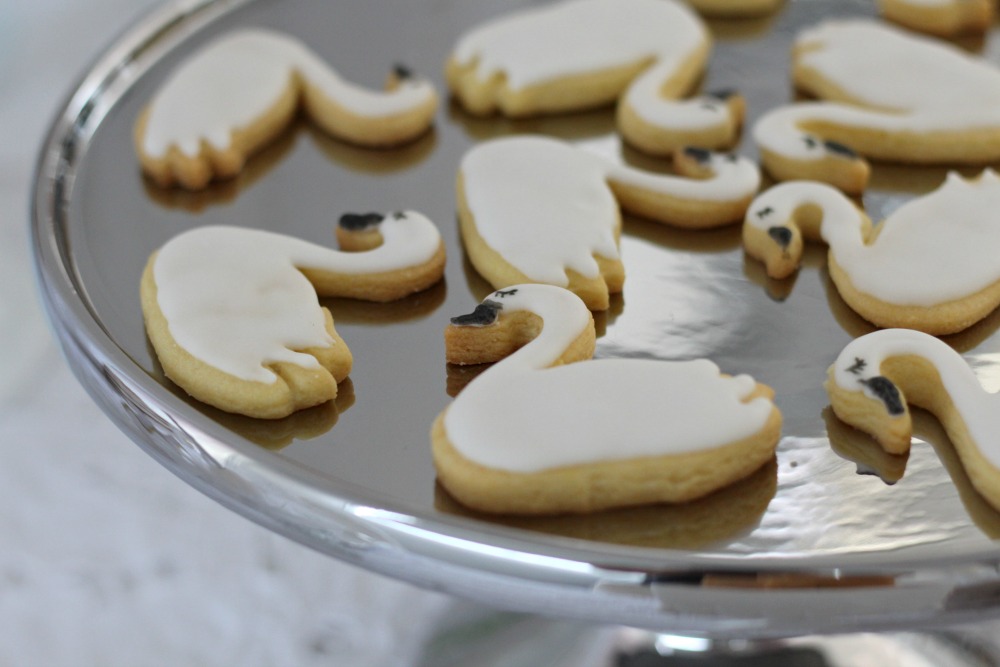 To draw or write on the cookies, use edible pens from cake decorating shops.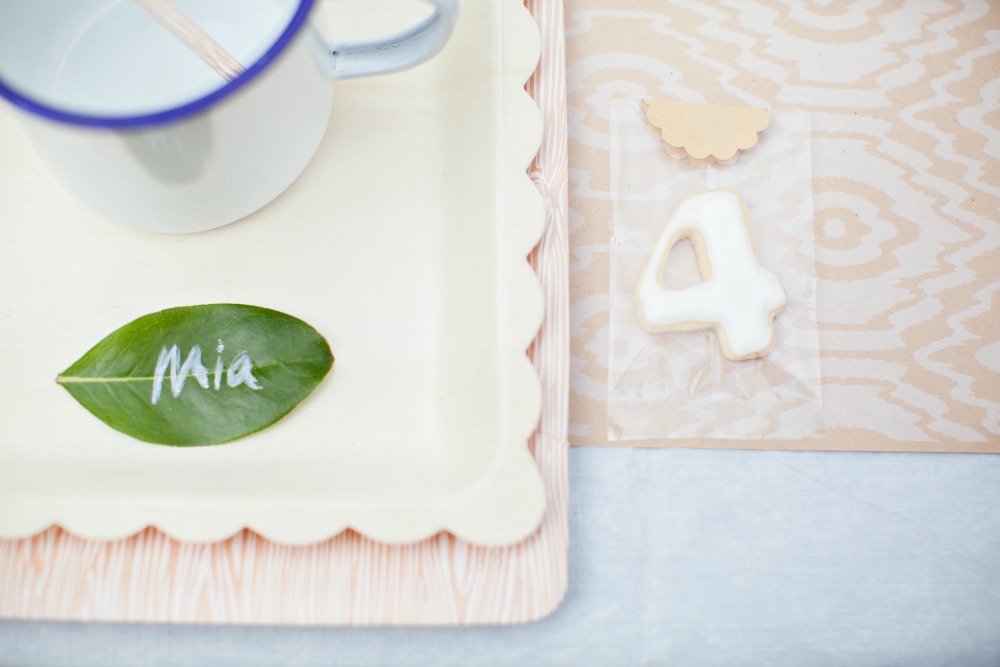 Fondant iced cookies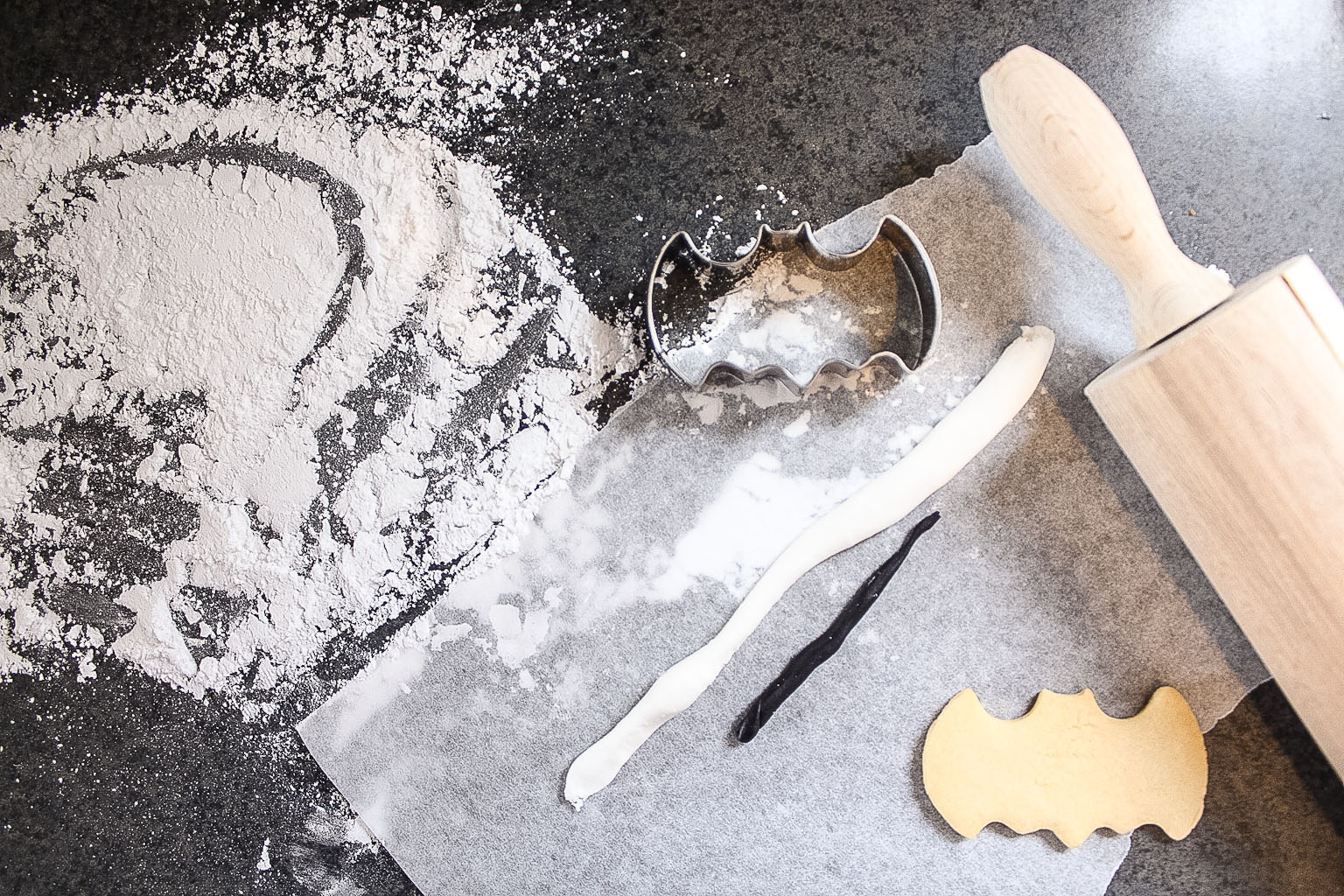 I photographed these bat cookies when I threw Beau his Batman party a couple of years ago. The party was monochrome themed so I thought I would give monochrome marbled fondant a go! Im so glad I did I really like the way they turned out!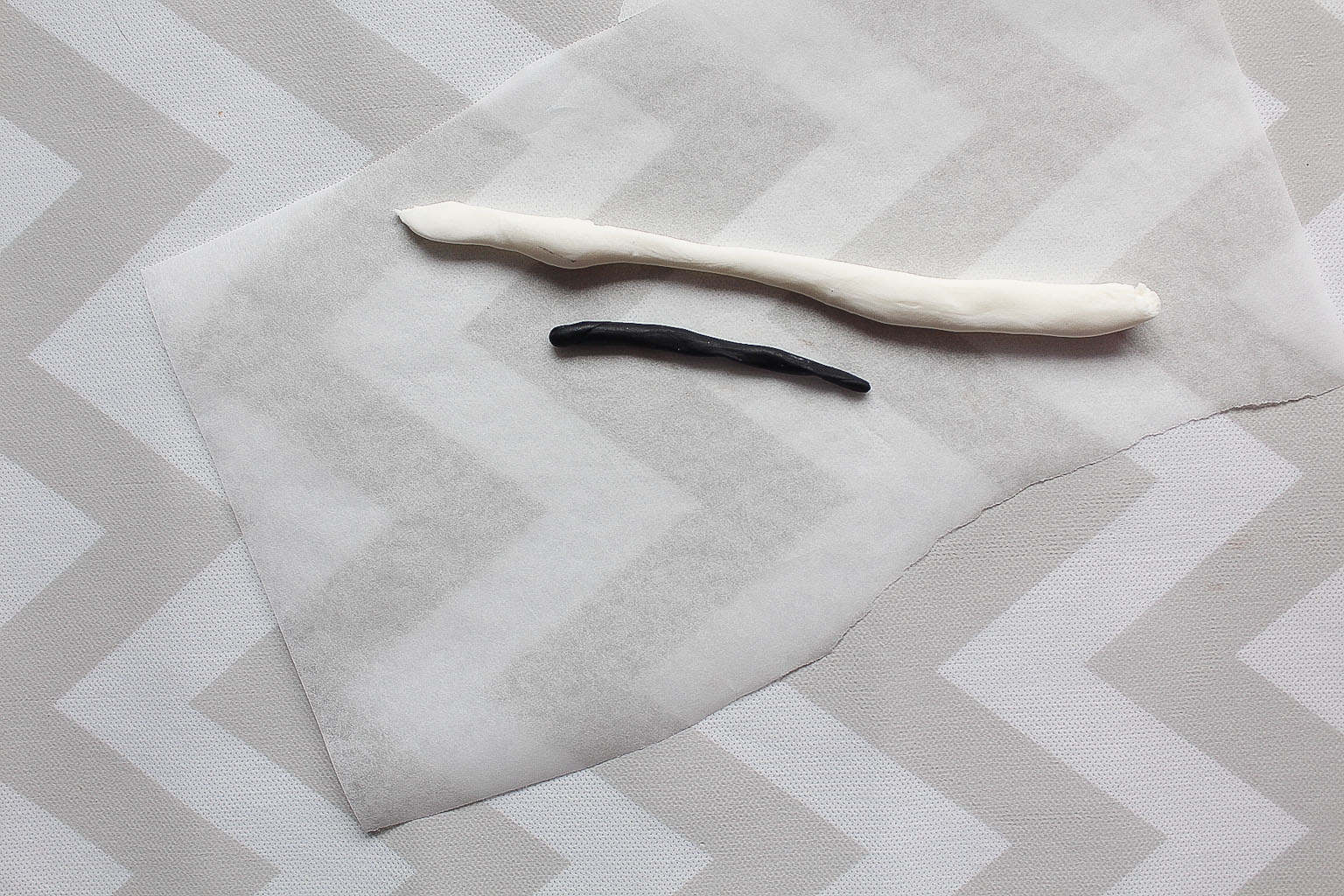 To decorate sugar cookies using marble fondant you will need two colours of fondant: white and the other colour you would like to marble. I found it easier to buy the fondant already coloured to save the fuss of colouring the fondant.
I personally found the best way to marble the fondant was doing one cookie at a time. To start you get two small pieces of fondant, work it with your hands until its nice and pliable (You will need more white than black). Start by rolling the fondant into long thin sausage like pieces.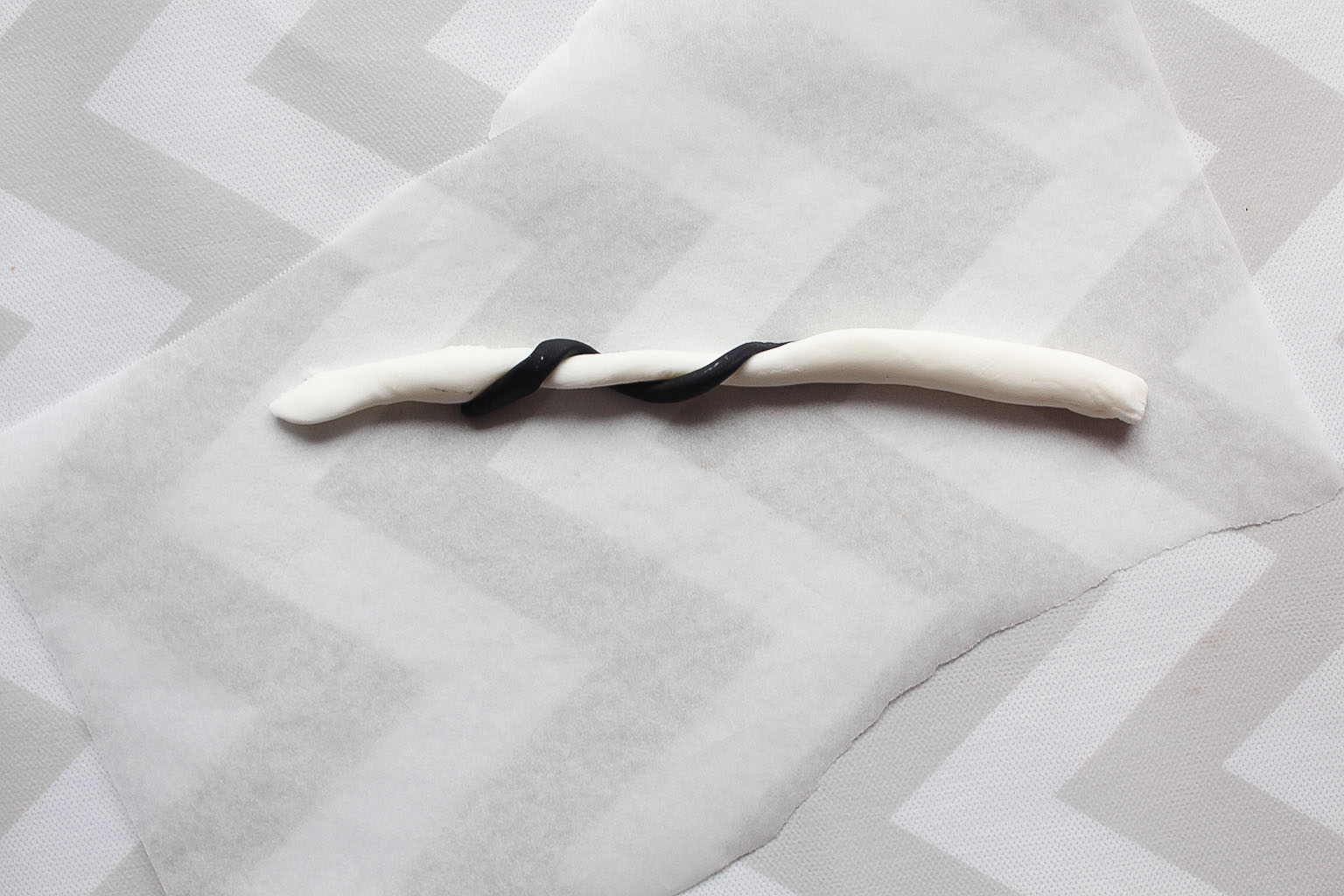 Start to entwine the fondant together and twist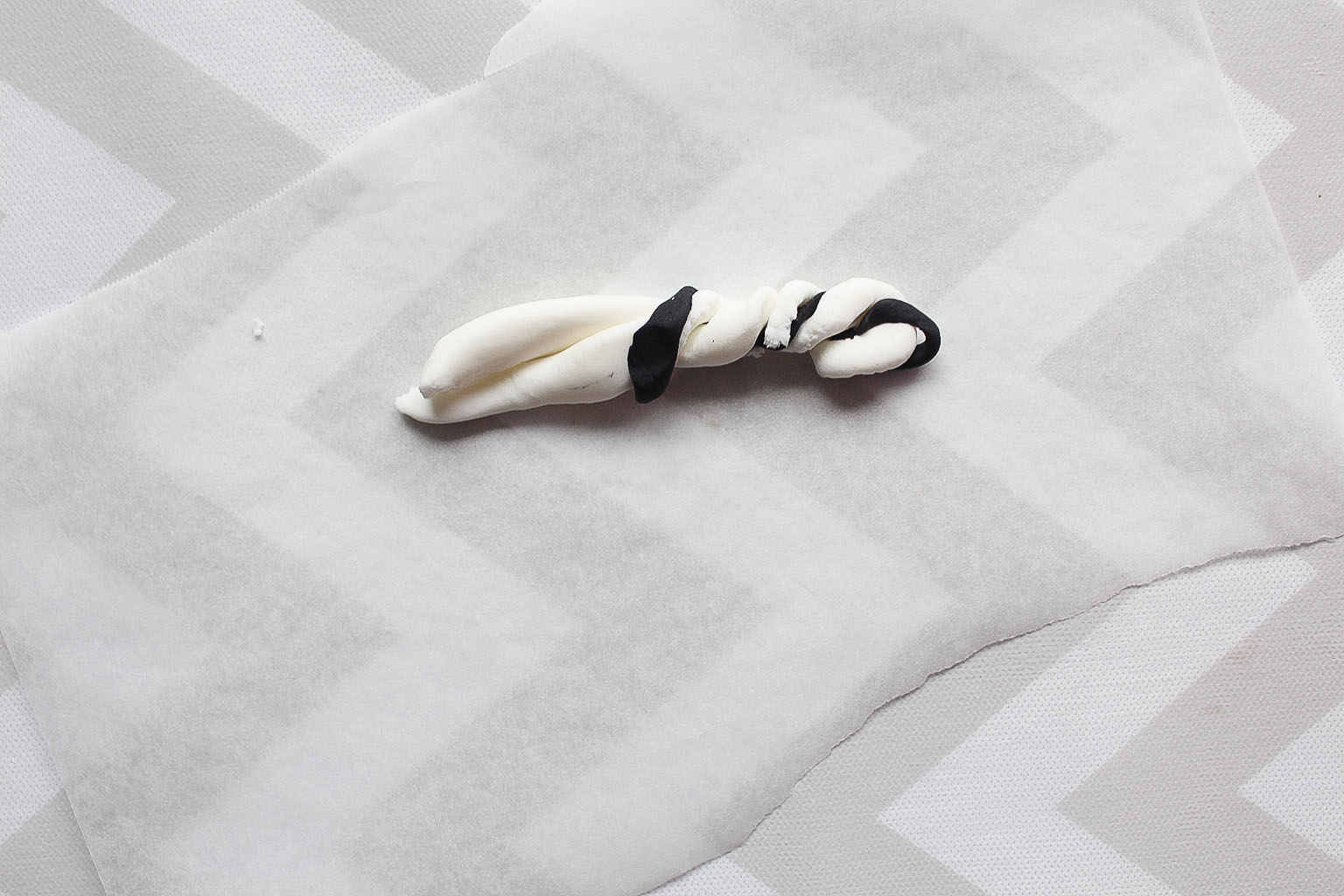 Turning the fondant into itself keep repeating the twisting of the two colours together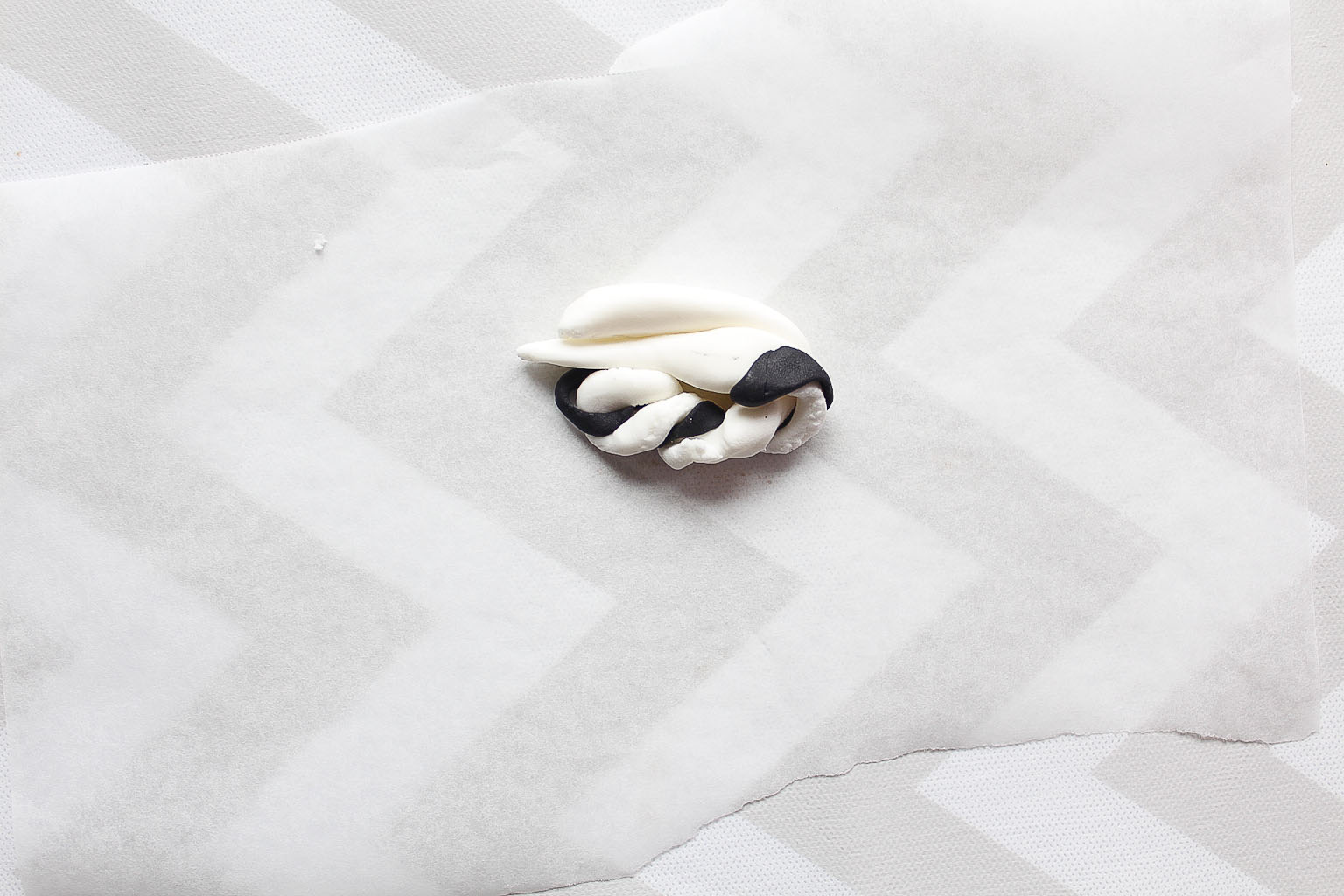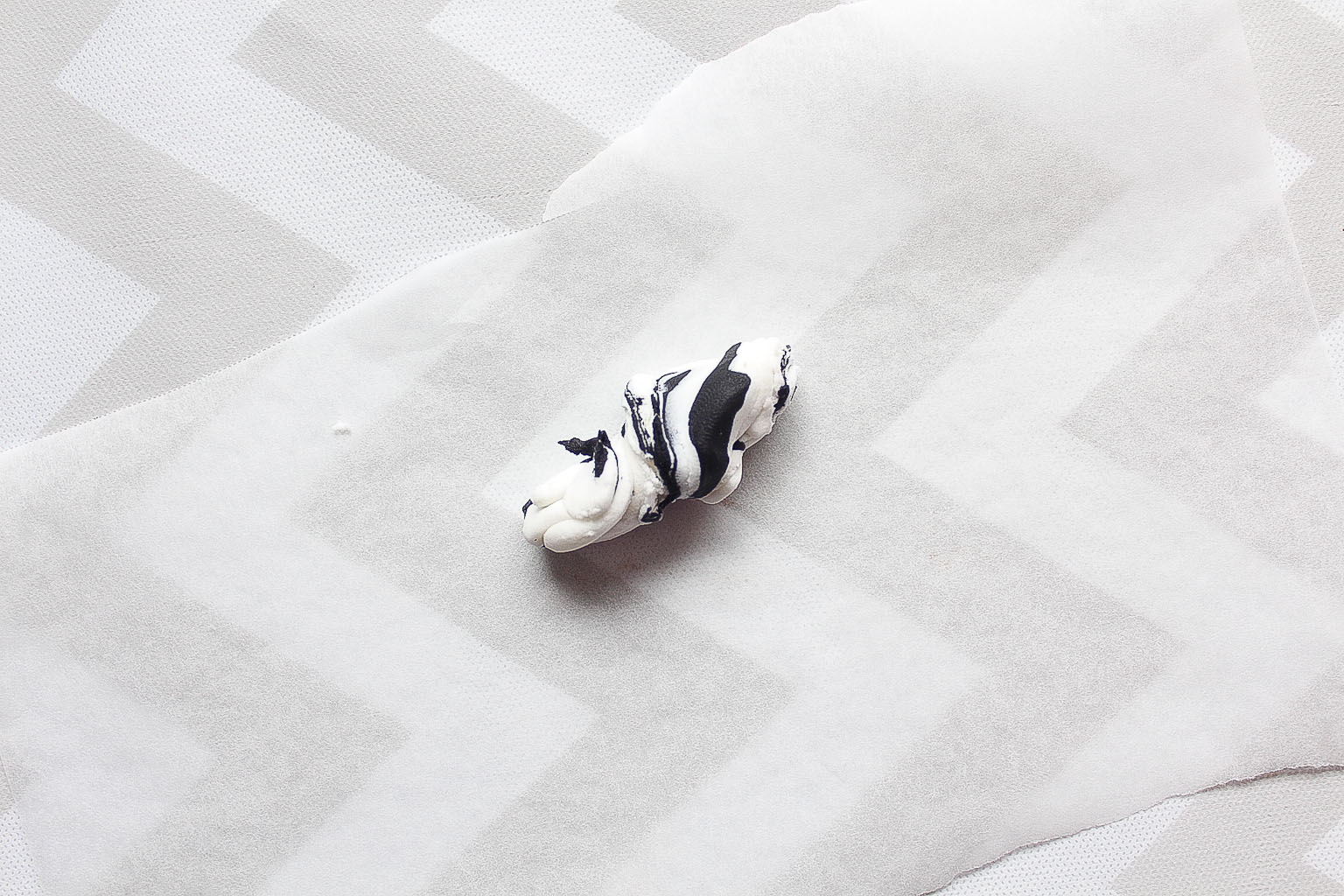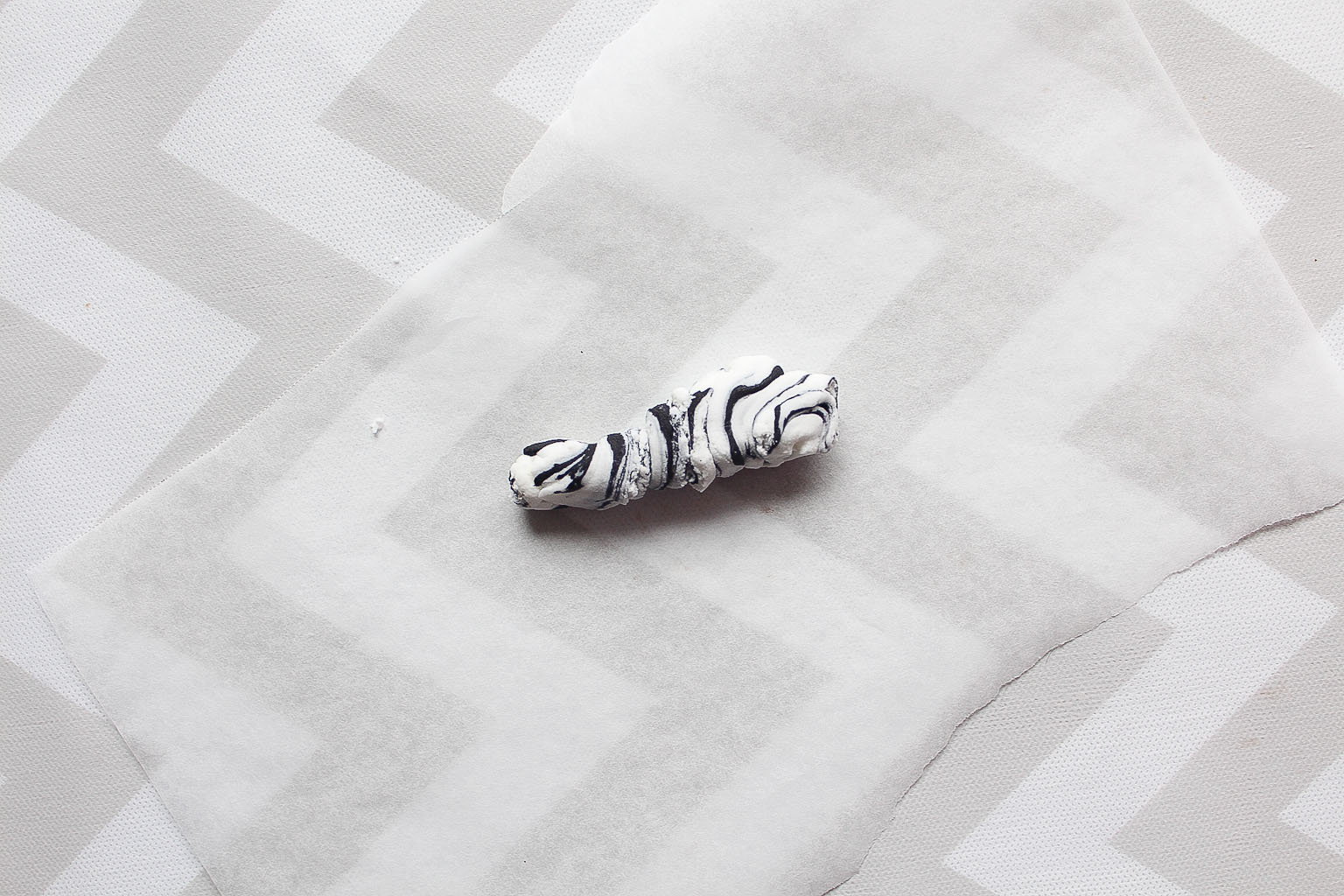 Once the two colours are well mixed in you can roll it out with a rolling pin

Use a mixture of cornflour and icing sugar to dust your rolling pin and work surface, I lightly dust the surface every time I roll a piece of fondant out.
You can also make your own duster by cutting a square piece of cotton muslin and filling with a tablespoon each of cornflour and icing sugar, tied with a rubber band. You can use this duster bag to dab over your work surface instead of sprinkling it!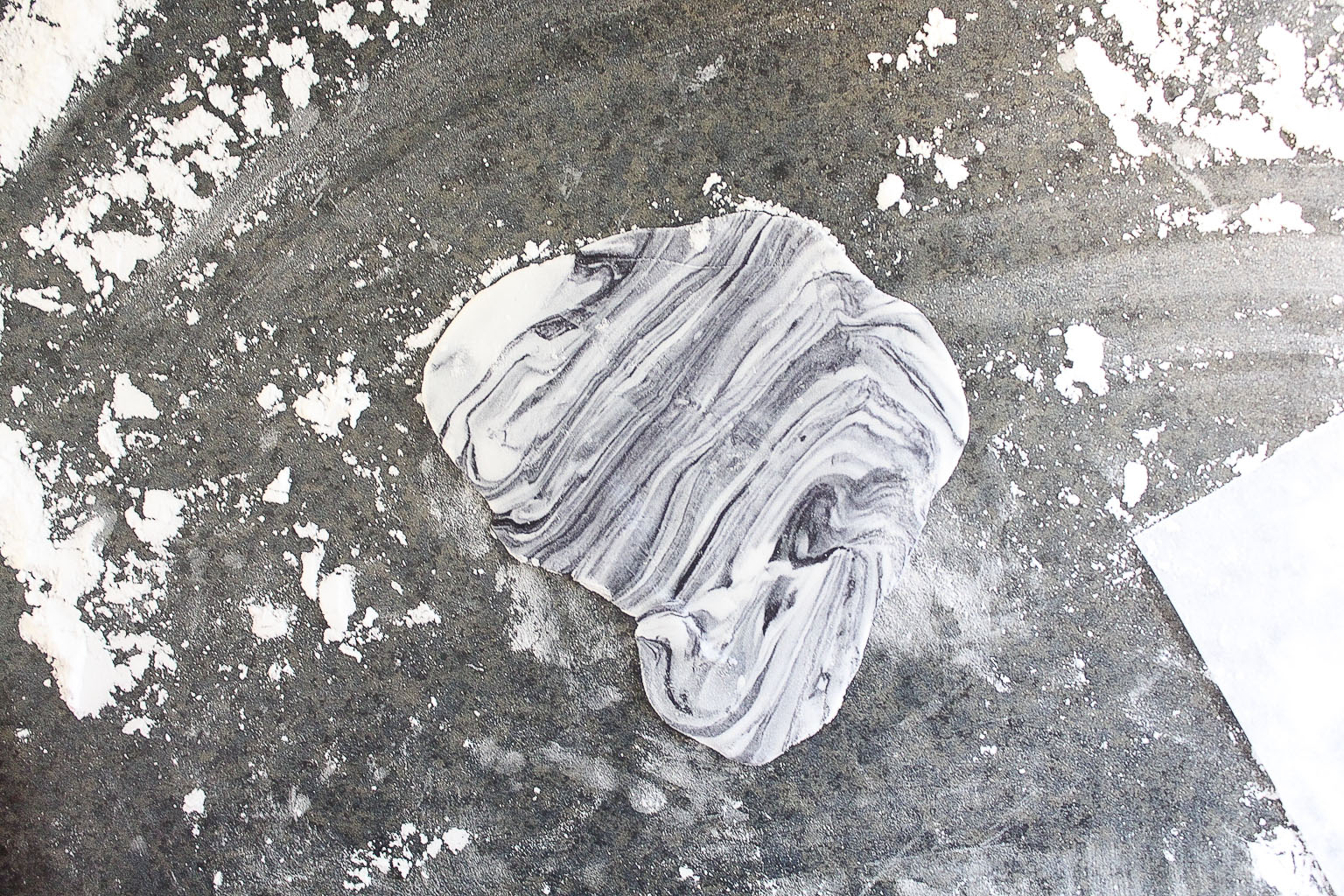 Once your cookies have cooled and are ready to ice, gently spread a thin amount of apricot jam onto each cookie this helps the fondant to stick to the cookie. Apricot jam is the best 'glue' to use as its the smoothest and wont cause any bumps on your fondant.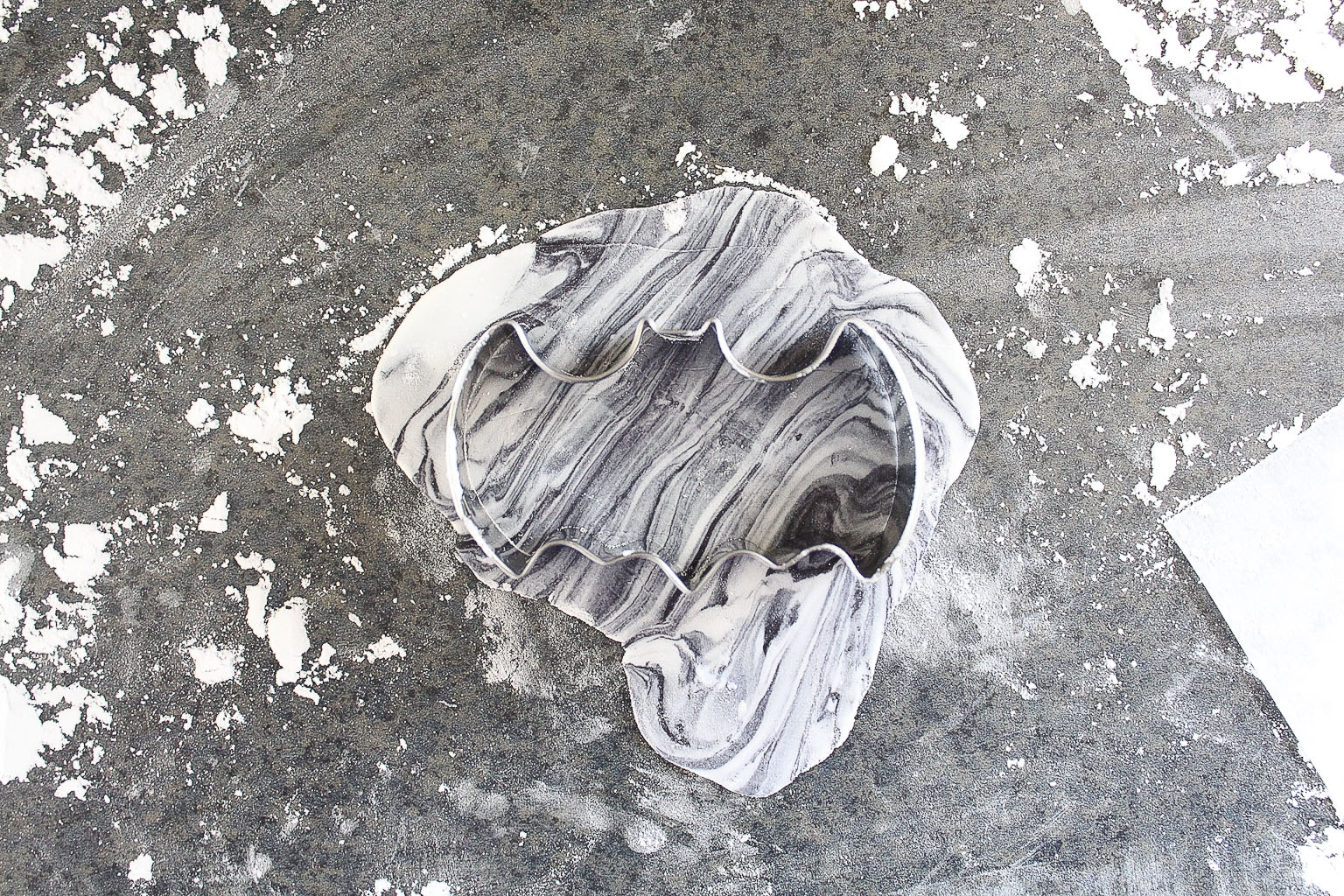 Roll out a piece of fondant to about 3-4mm thick and big enough to use your cookie cutter to cut out the shape, gently lift the fondant shape (without stretching it, with a knife or metal cake spatula) and place onto the cookie then gently smooth it down with your finger and pop aside to dry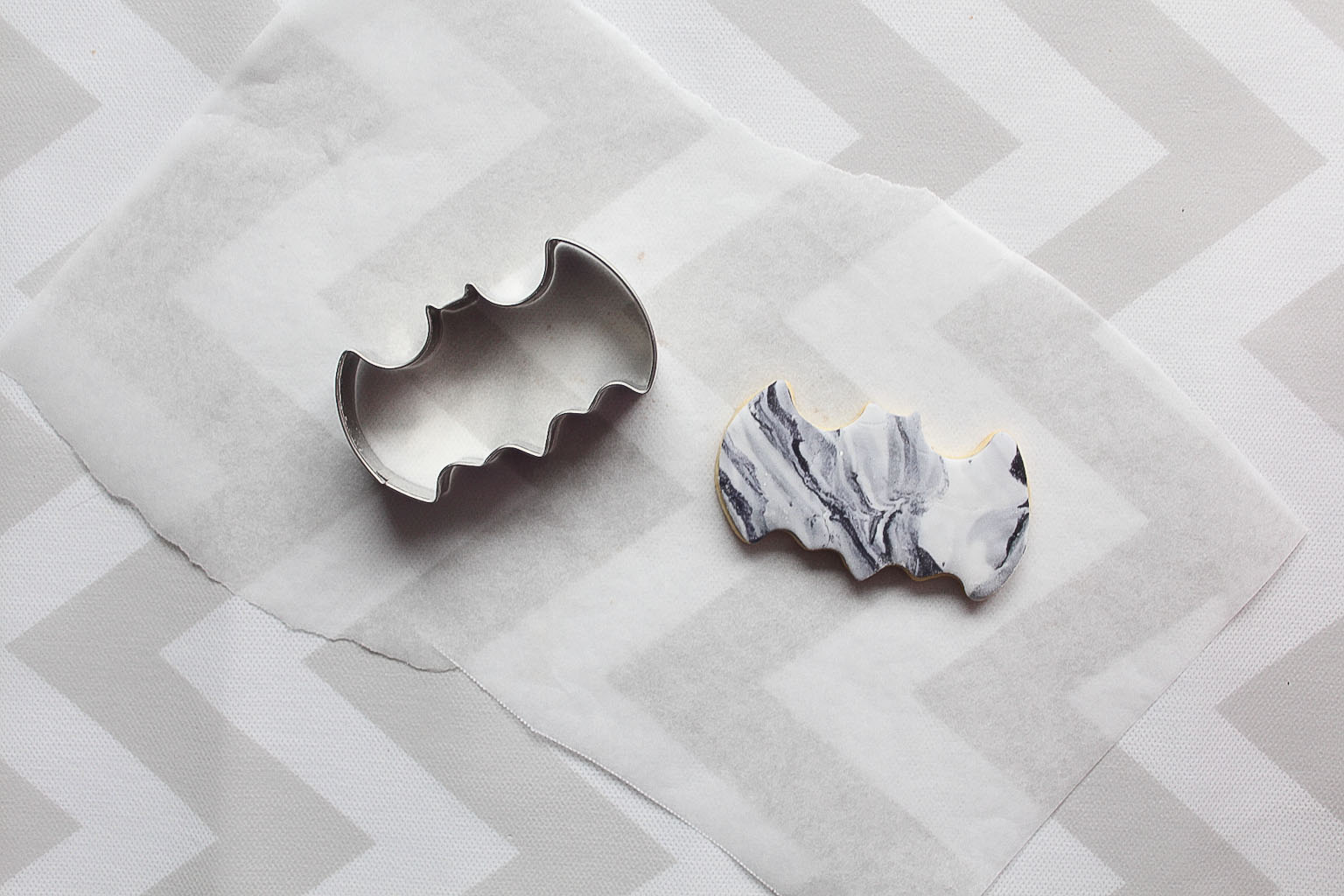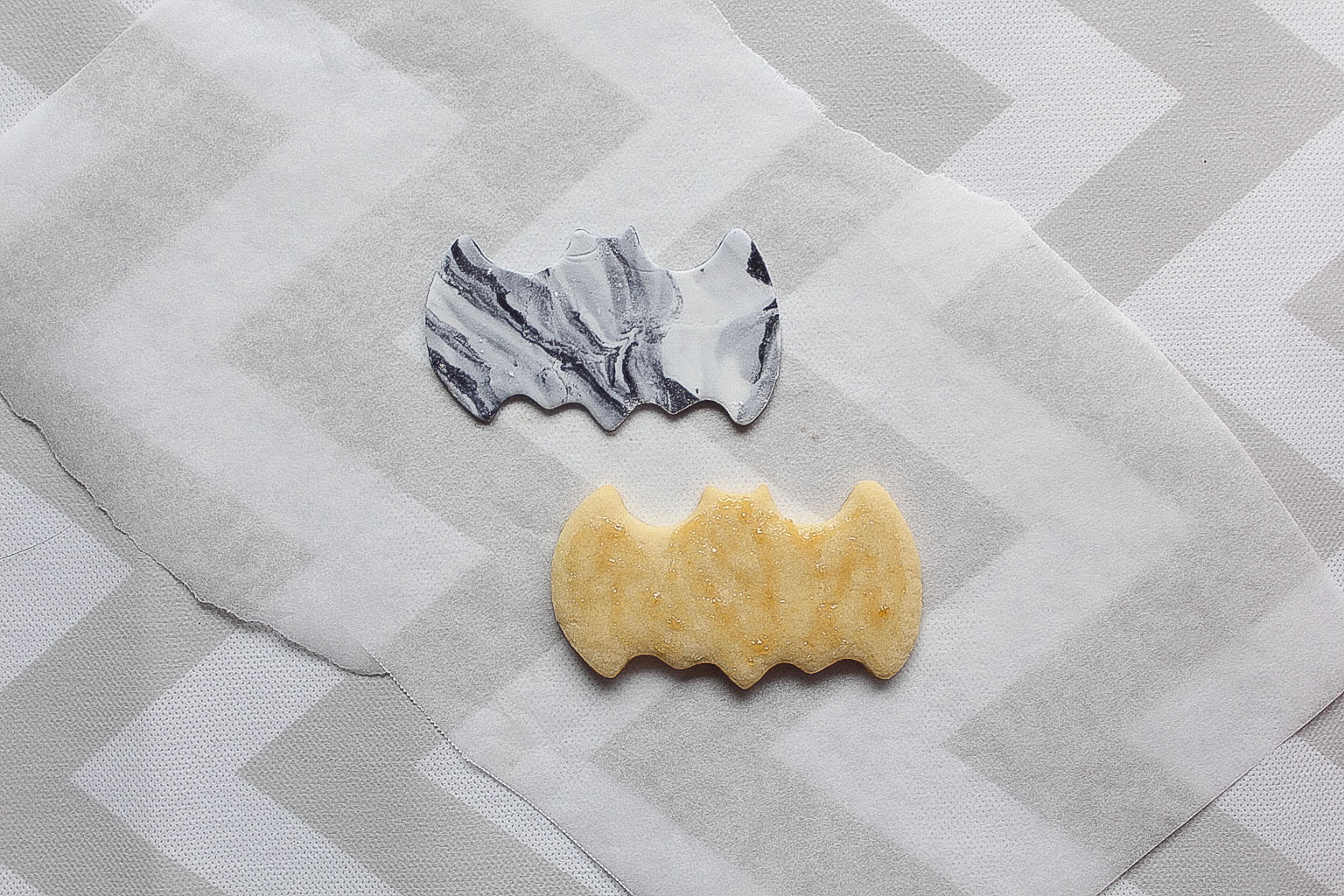 Keep going until your cookies are done (listening to podcasts + wine helps pass the time!).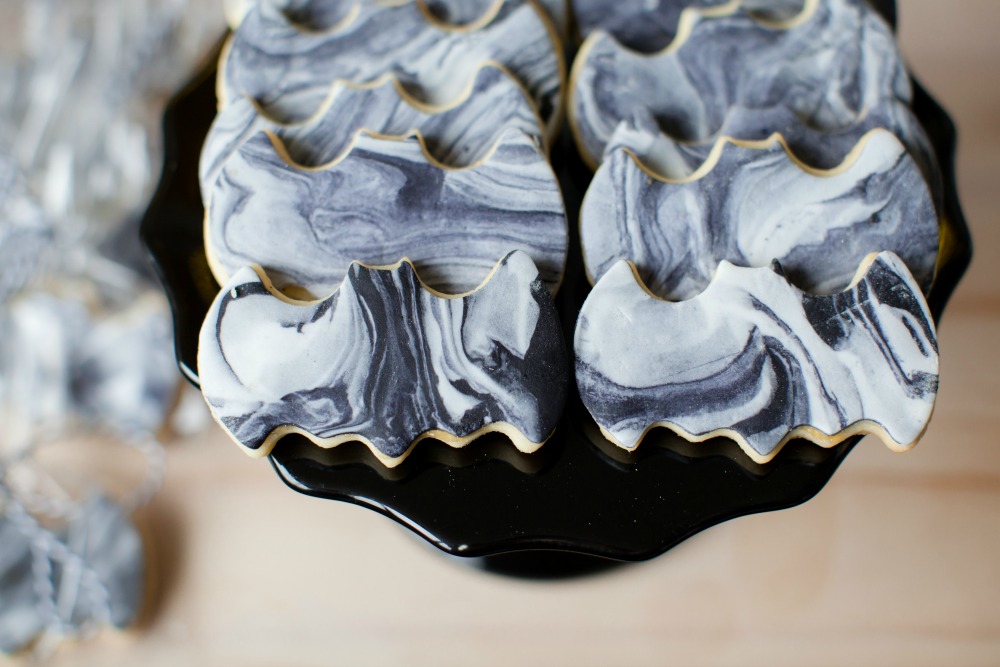 If you cookies are covered in icing sugar, gently wipe with a damp clean cloth.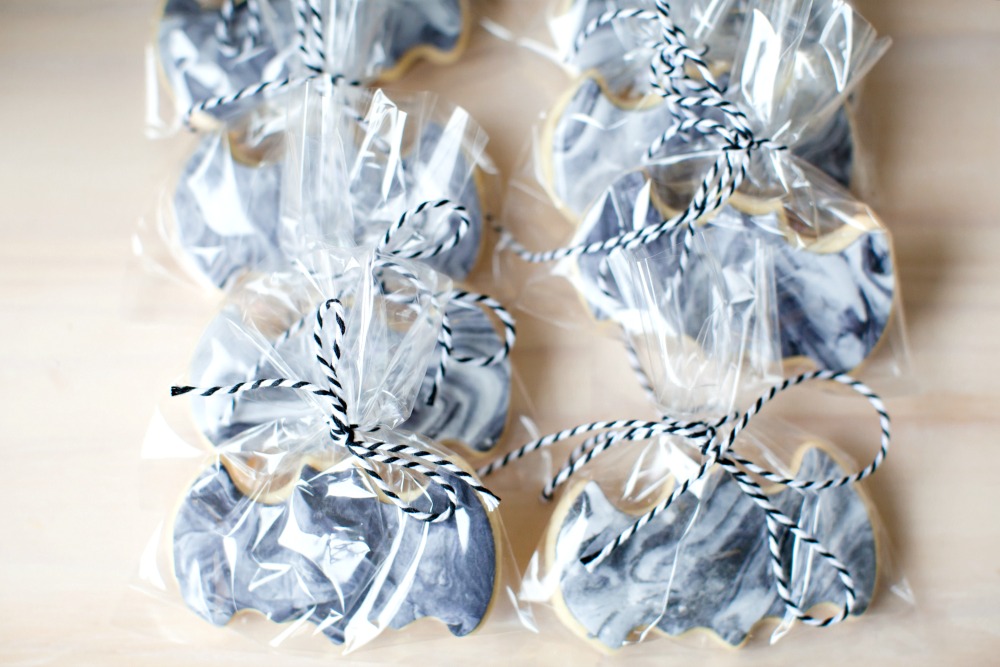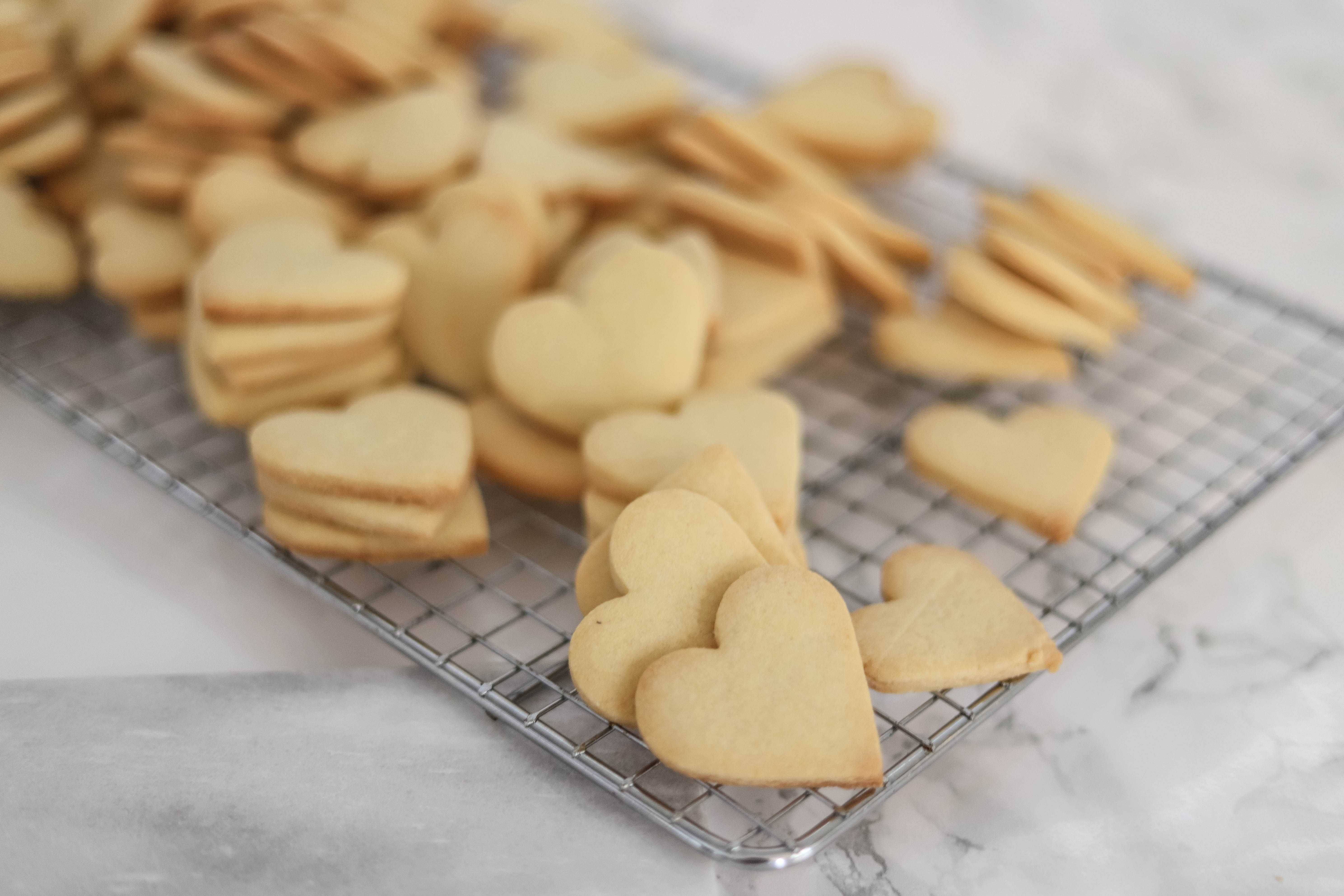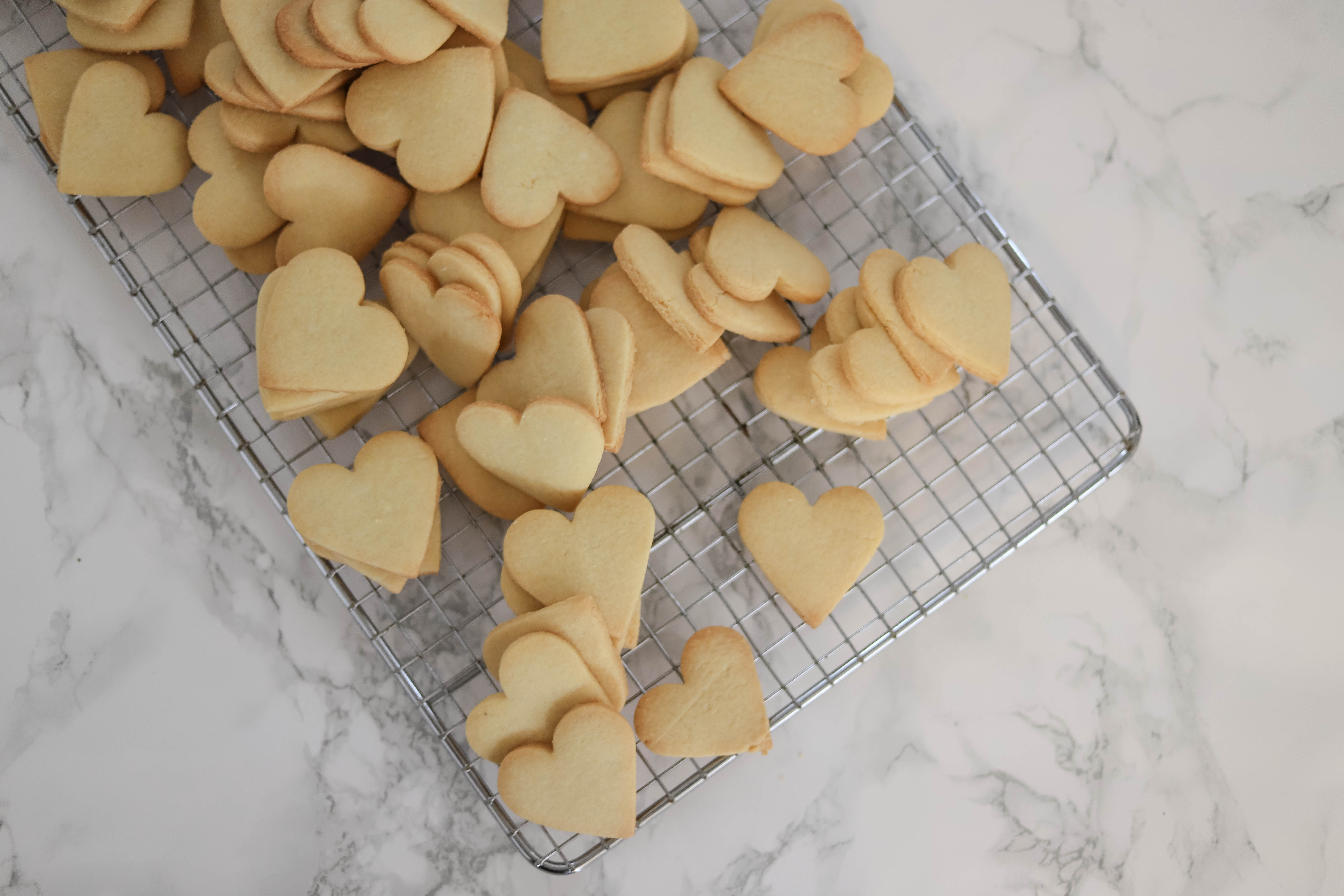 My kids love to eat these cookies plain too!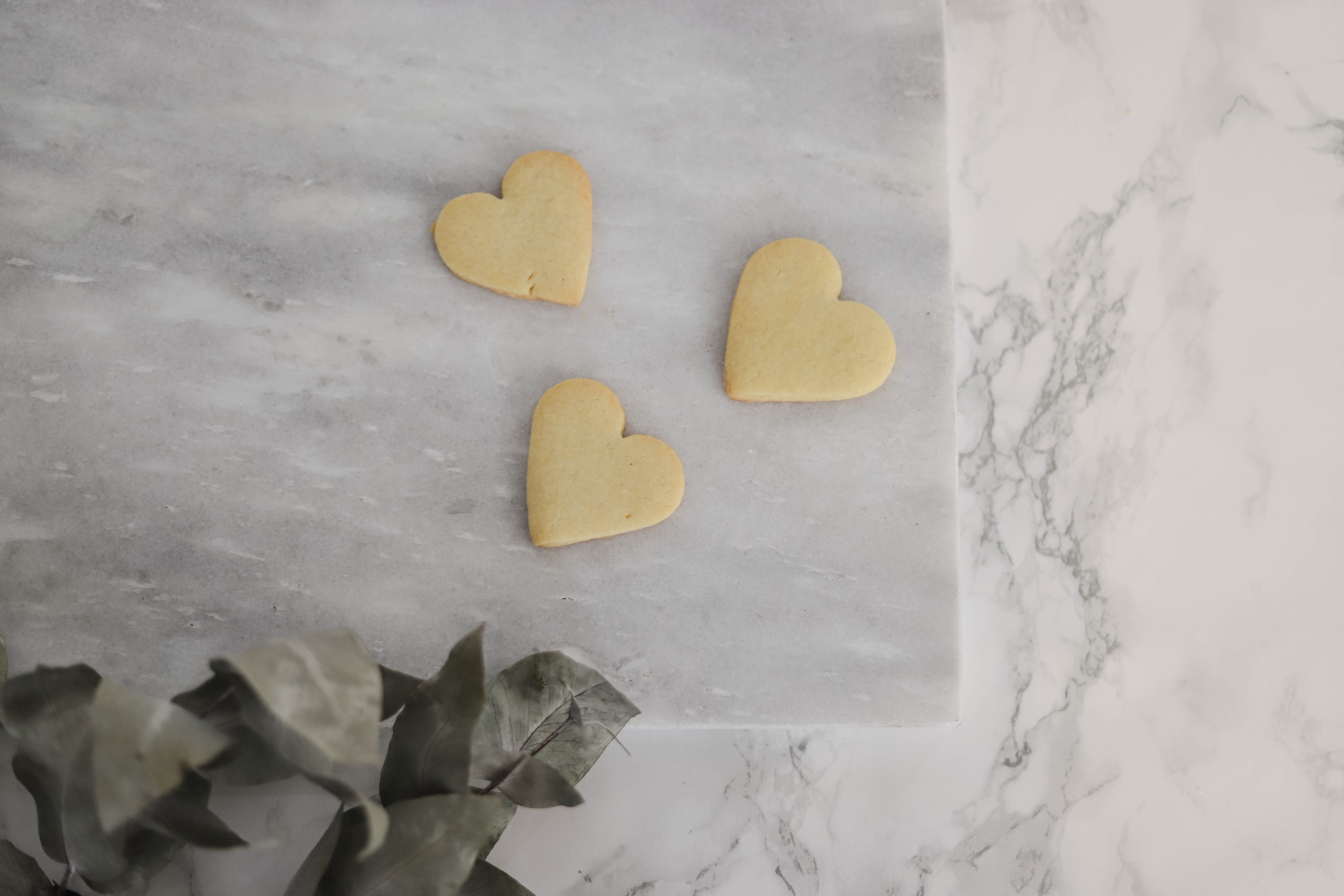 For plain stamped fondant cookies, work the fondant with your hands on the bench and roll out in a large piece then cut out the shapes with a cookie cutter.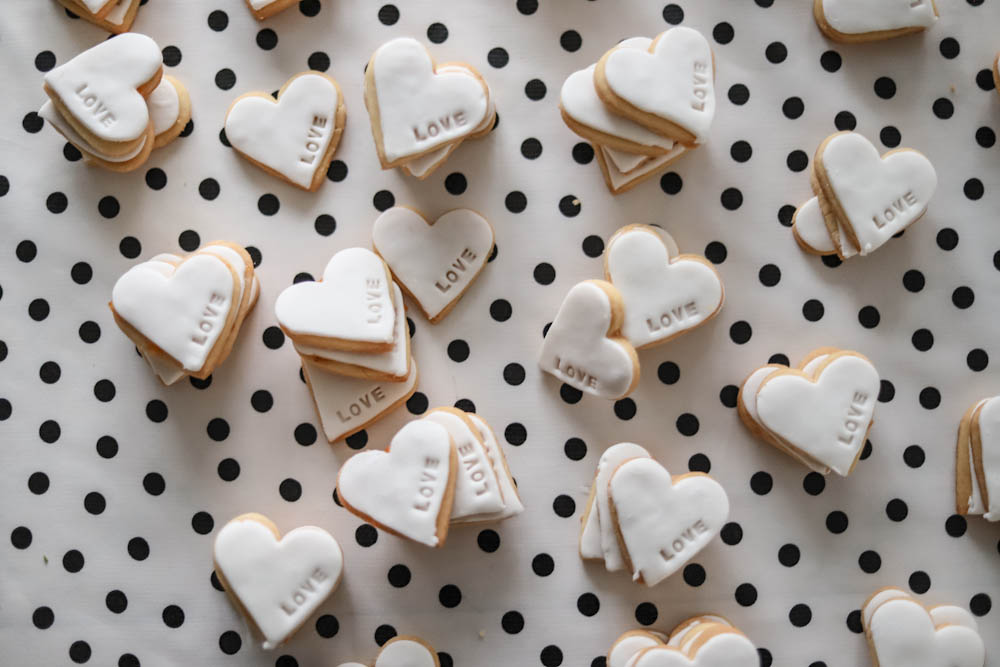 Once you have popped the fondant icing onto the cookie and you can stamp them with a cookie alphabet stamp which you can buy on Trademe.
You an spell out any words, just pop the letters in the press and gently stamp into the fondant on top of the cookie (if you're unsure your letters are around the correct way, test it by stamping onto a piece of bread)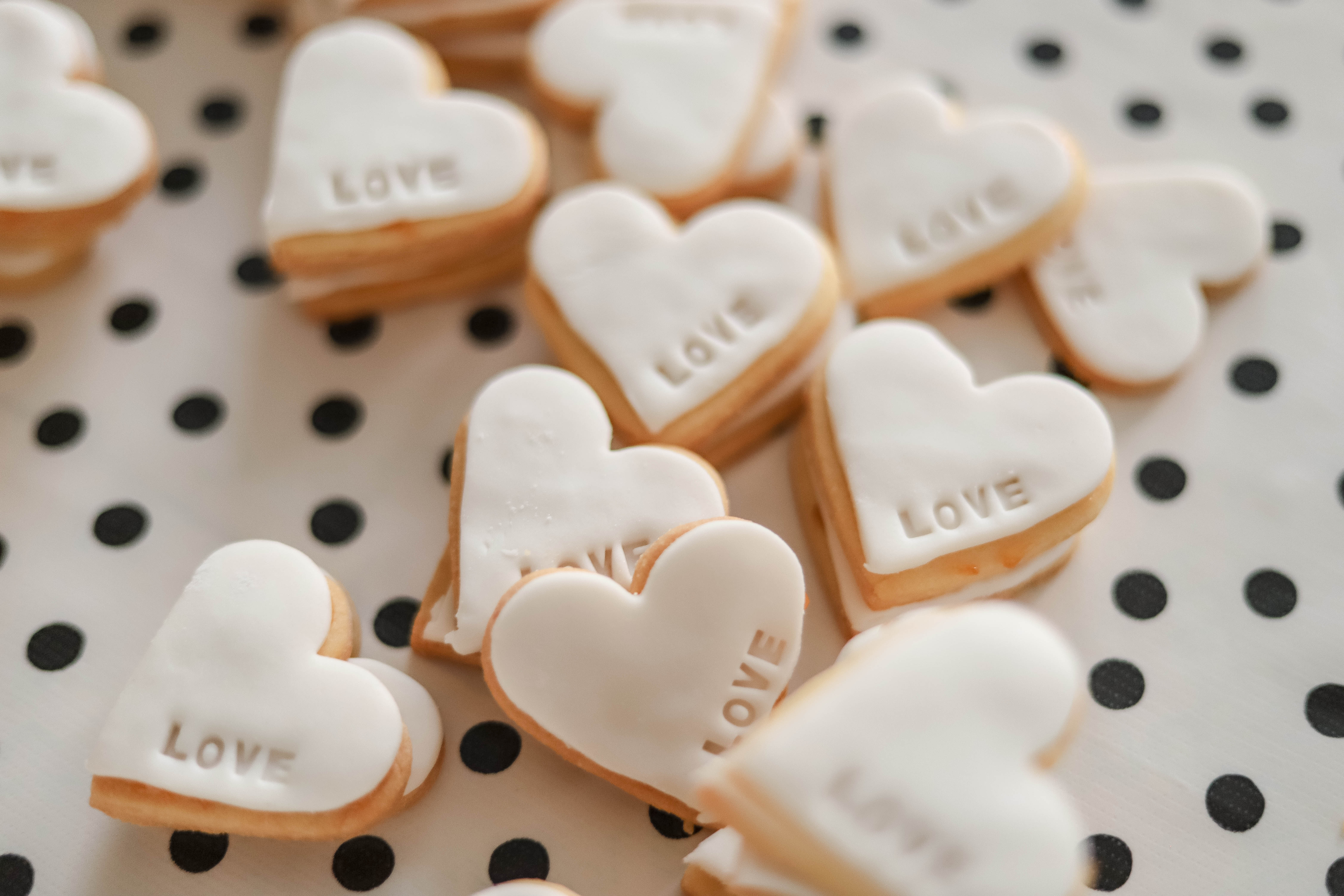 Don't forget the great thing about these cookies is you can make them 1-2 weeks in advance of a party!
I hope this helps with making sugar cookies, if you have any questions please ask and if you need more visuals there are heaps on youtube!