Can I have another piece of….. chocolate cake?
I've seen sheet cakes for years all over the internet, I've always thought I had to buy a special cake tin to make it. But I decided to give it a go using my Chocolate Banana cake recipe I shared here and baking it in my large square roasting that came with my oven.
Sheet cake is hugely popular in America and its pretty much just a short one layer large square or rectangular cake with icing on top! You know those kinds of cake that you can ice massive messages on it! Sheet cake has always appealed to me because of the cake to icing ratio mmmmmmmm!
This sweet Chocolate Banana Sheet Cake recipe is the original Chocolate Banana cake mixture doubled but only using 1/3 of the icing. I'm sharing it in the recipe below to save you having to work it out, just print it out or pin it on Pinterest for later!
Please note this sheet cake version worked perfectly for my roasting dish which measures: 31cm x 34cm.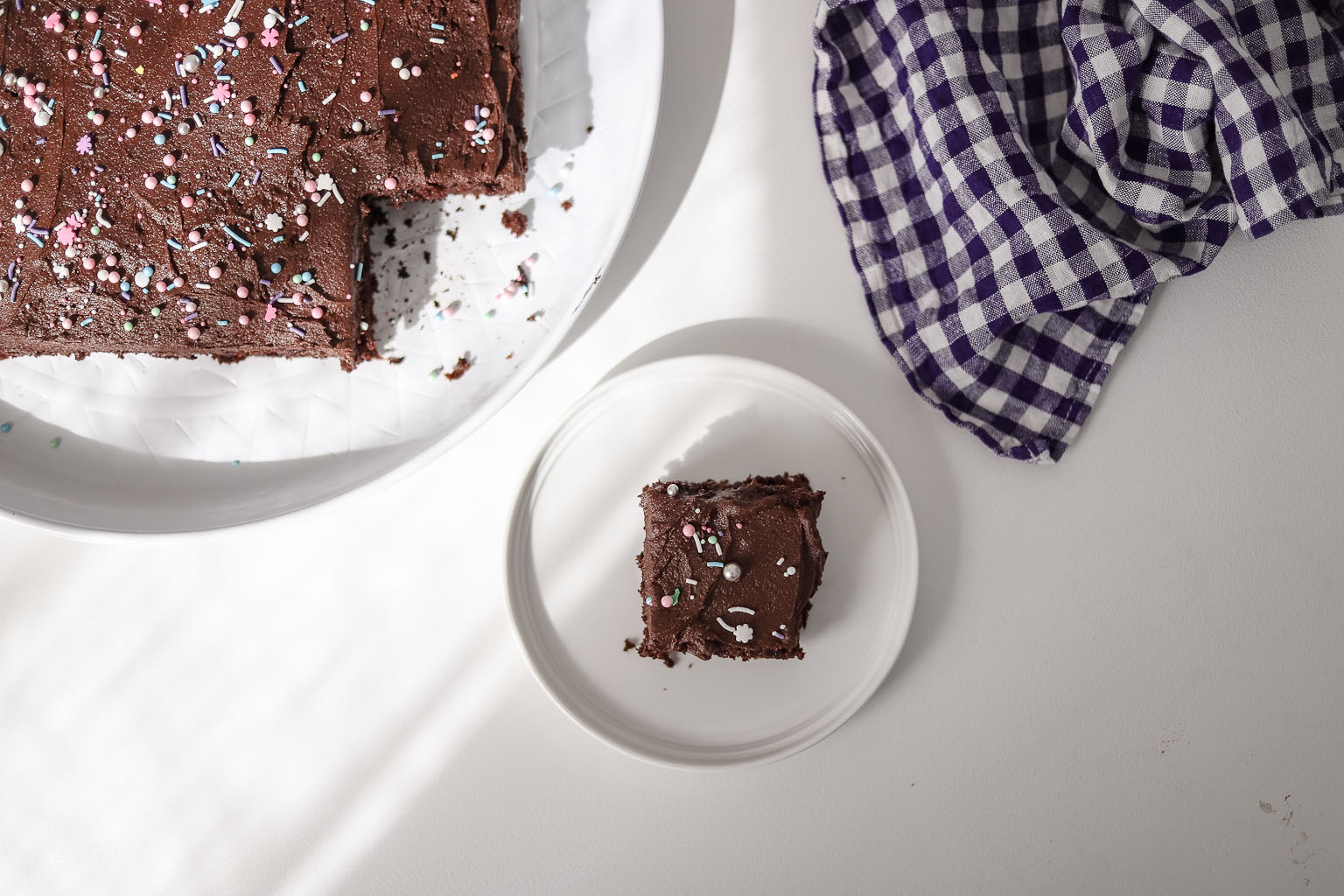 The best reason to make this Chocolate Banana Sheet Cake is not only is it utterly delicious and moist. This recipe goes a long way and is perfect for birthday cakes and school bake sales! To keep it simple ice it with my chocolate frosting buttercream and decorate with sprinkles like I have in these photos.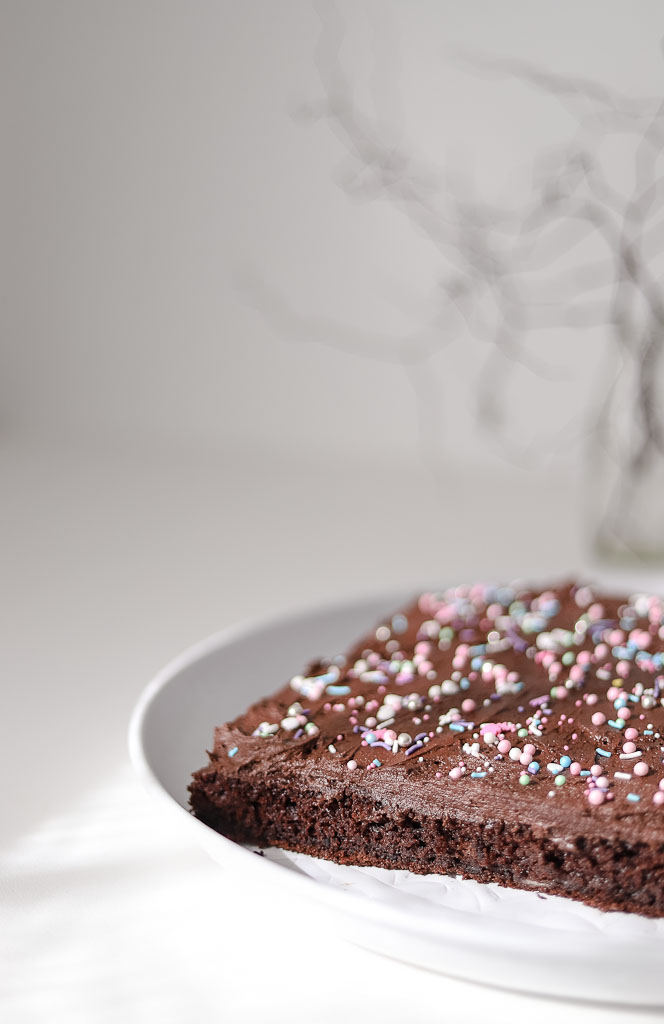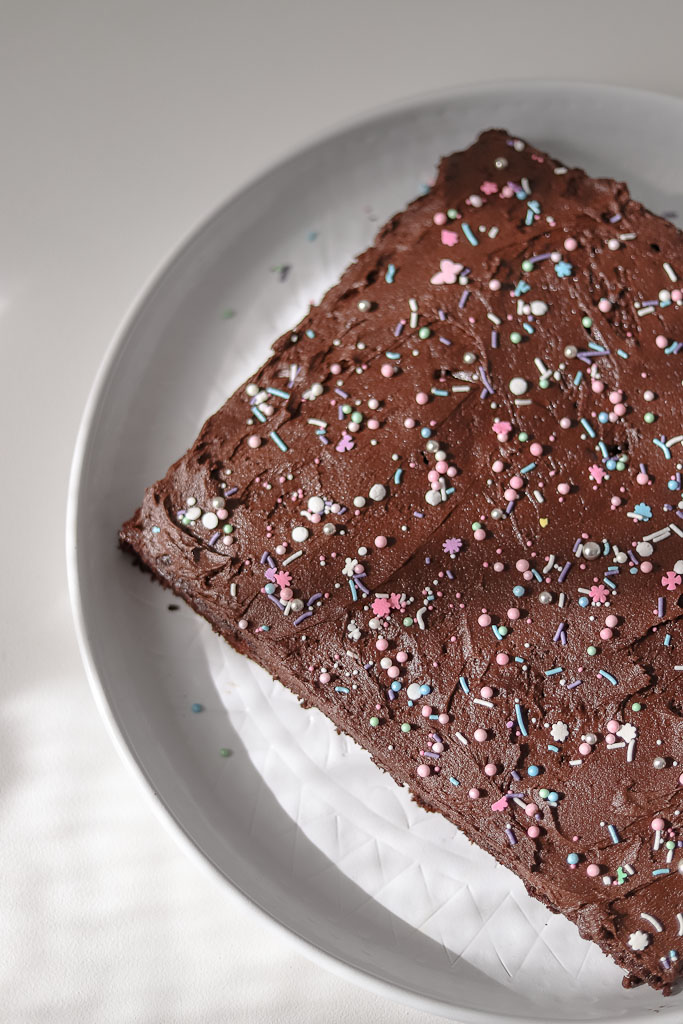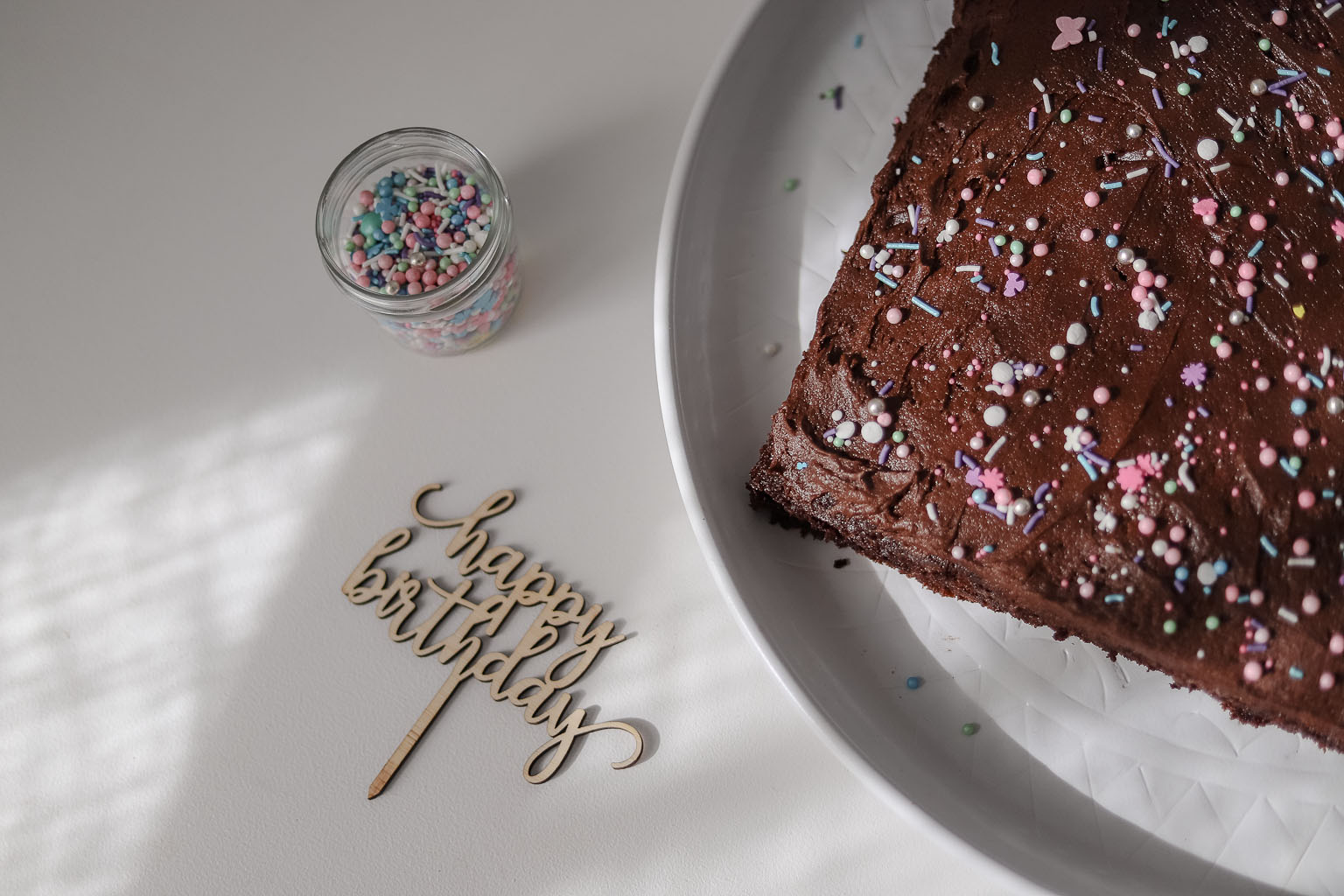 Happy birthday cake topper is from Love From Seventeen.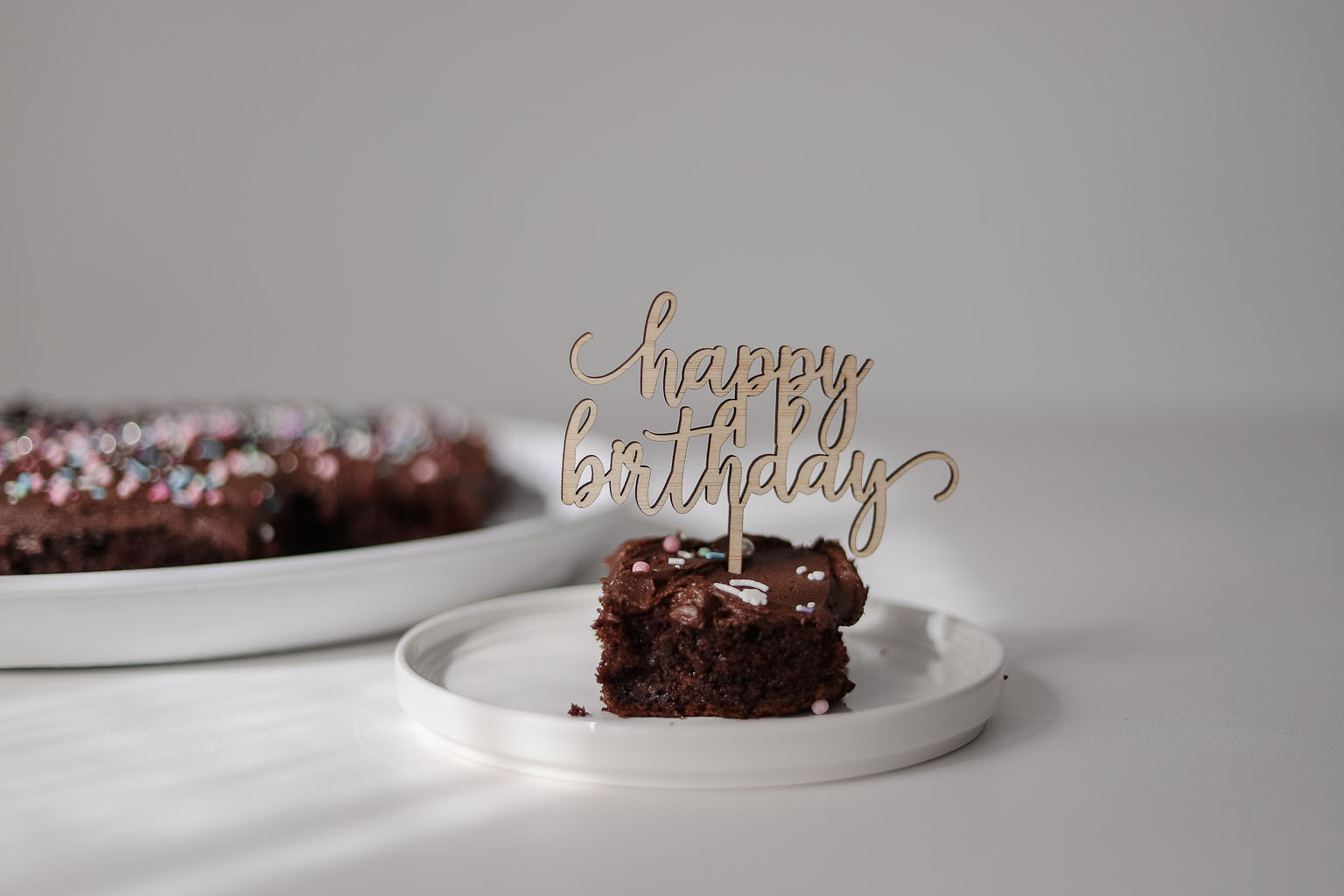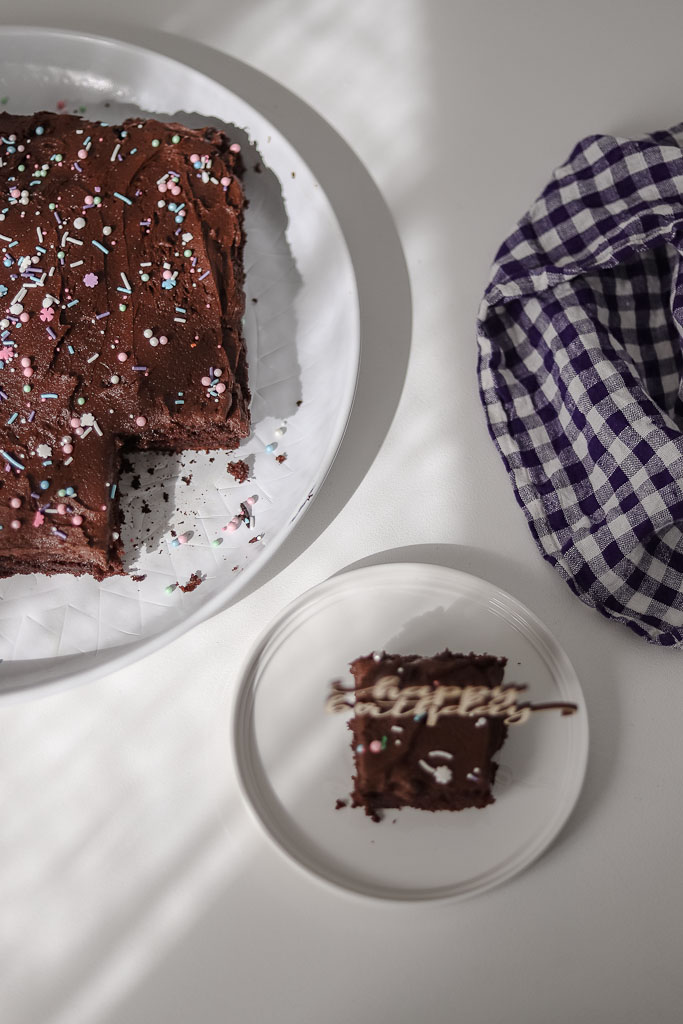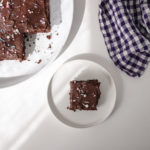 CHOCOLATE BANANA CAKE SHEET CAKE
This chocolate Banana Sheet Cake yields a large moist and delicious cake perfect for Birthdays and bake sales! Anyone who eats this will be asking you for the recipe!!
Ingredients
INGREDIENTS
200

g

butter softened

2

cups

sugar

2

eggs

2

teaspoons

vanilla extract

1

cup

plain yoghurt

4

bananas mashed

3

cups

self raising flour

1/2

cup

cocoa powder

pinch

salt

2

teaspoons

baking soda

1

cup

boiling water
CHOCOLATE FROSTING
100

grams

butter softened

250

grams

icing sugar

1/3

cup

cocoa powder

milk to mix

1

teaspoon

vanilla extract
Instructions
INSTRUCTIONS
Preheat oven to 180 C.

Beat together butter and sugar in a food processor or cake mixer, add eggs and vanilla and mix well.

Mix in yoghurt, then banana and then add the sifted dry ingredients.

In a small bowl stir through baking soda in hot water until dissolved .

Pour mixture into a greased, lined large roasting dish.

Bake for 35 minutes until cooked through.
TO MAKE THE FROSTING
Mix butter and dry ingredients in the food processor or cake mixer

Add milk a little bit at a time until you achieve a spreadable icing

Add in vanilla extract and beat until smooth and velvety