Marshmallow has always been my weakness and I've always wanted to create a Christmas flavoured marshmallow. Originally I was thinking eggnog but after running a poll on my Instagram stories you guys were all about the GINGERBREAD!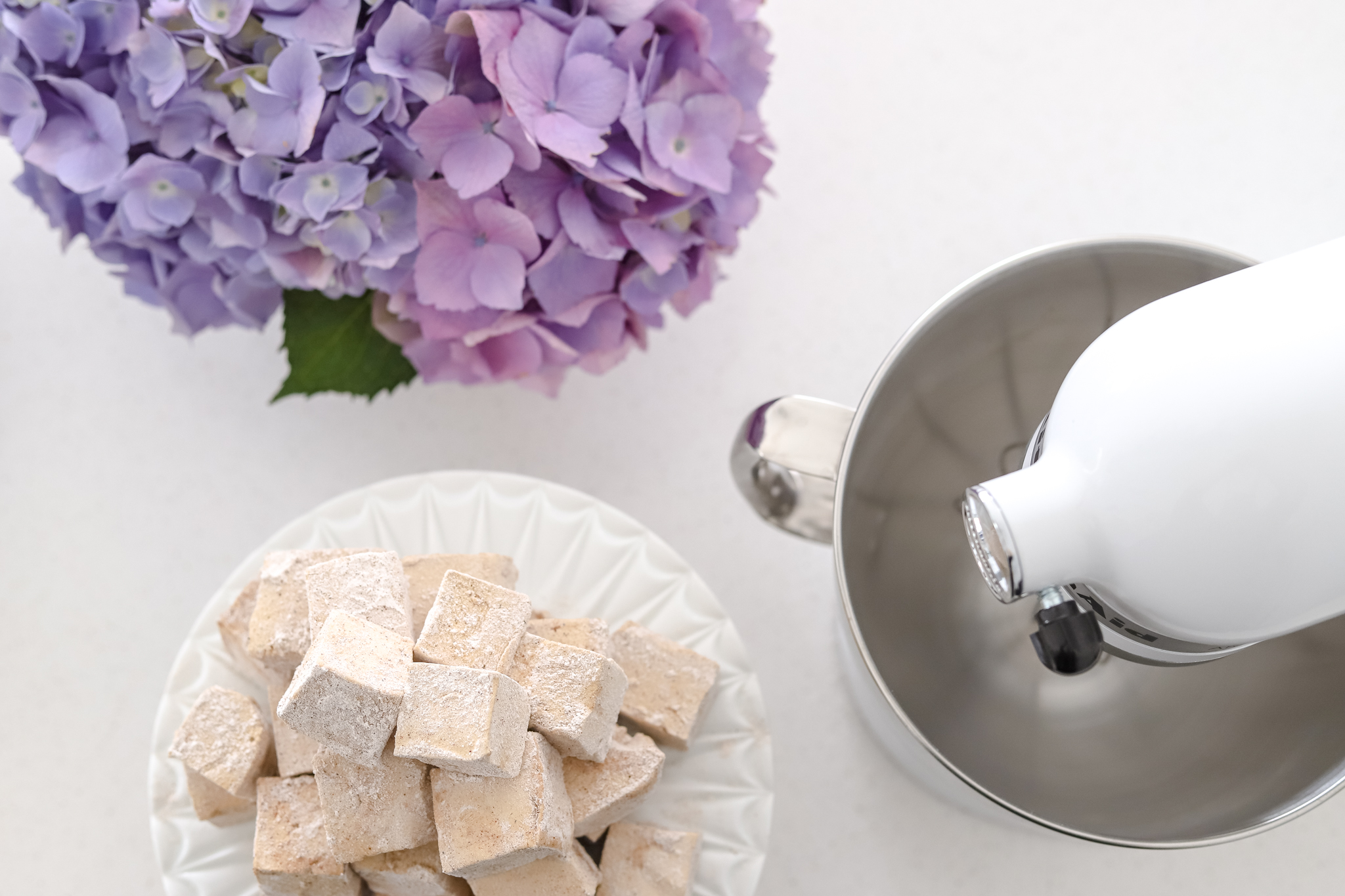 AD ~ When KitchenAid approached me asking me to showcase their artisan stand mixer I thought it would be amazing to show you how easy it really is to make! Believe me, the KitchenAid Artisan Stand Mixer does all the hard work. Check out my KitchenAid stories and post here.
Spoil a loved one with the ultimate gift of a Kitchenaid Artisan Stand Mixer this Christmas so they can bake, make and create! It really is the gift in the kitchen that keeps on giving! Available on KitchenAid.co.nz.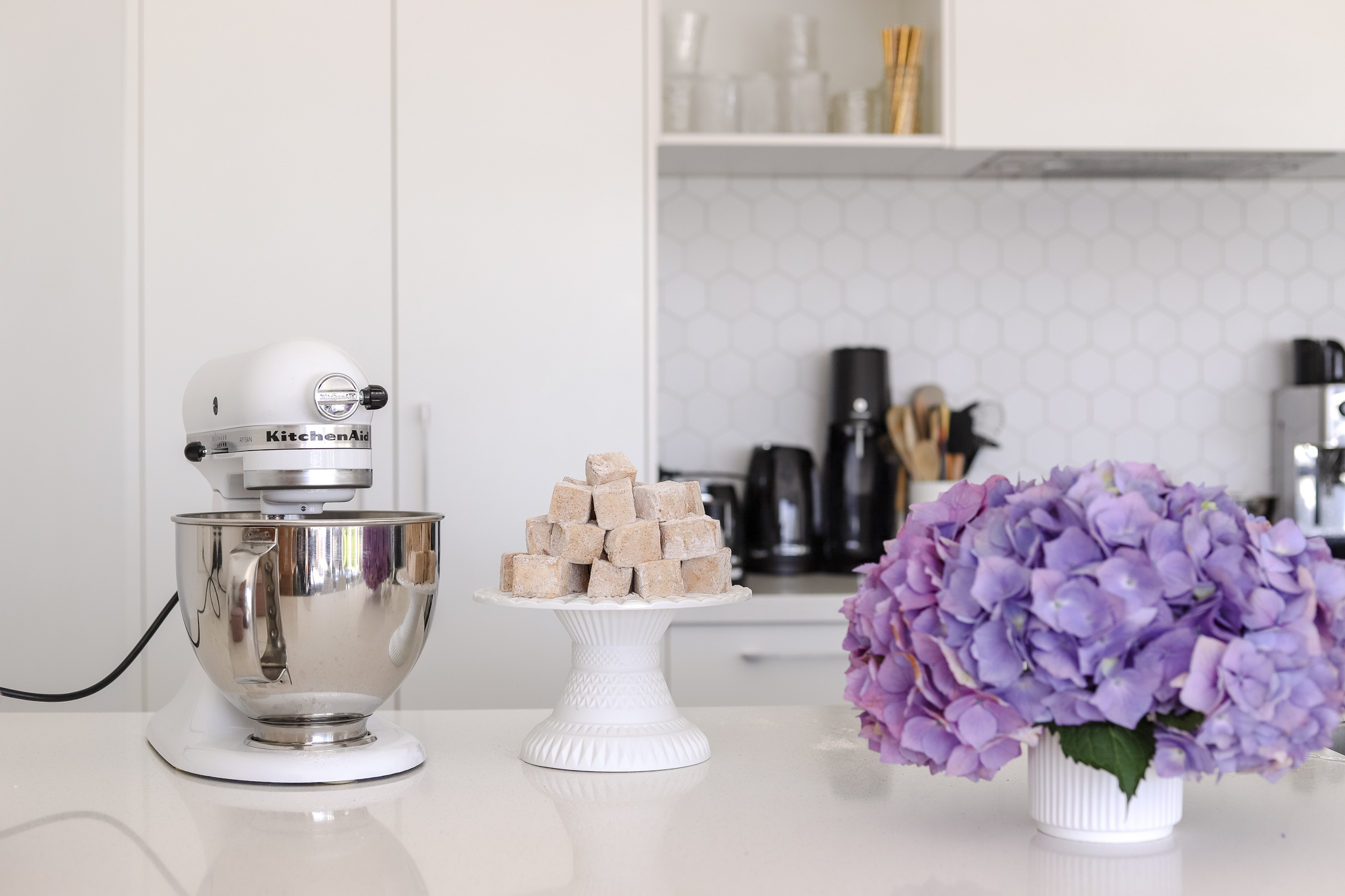 These make for the best edible gifts, add to a Christmas grazing table or my fave in a Christmas hot chocolate or coffee!
Let me know over on Instagram if you give it a try!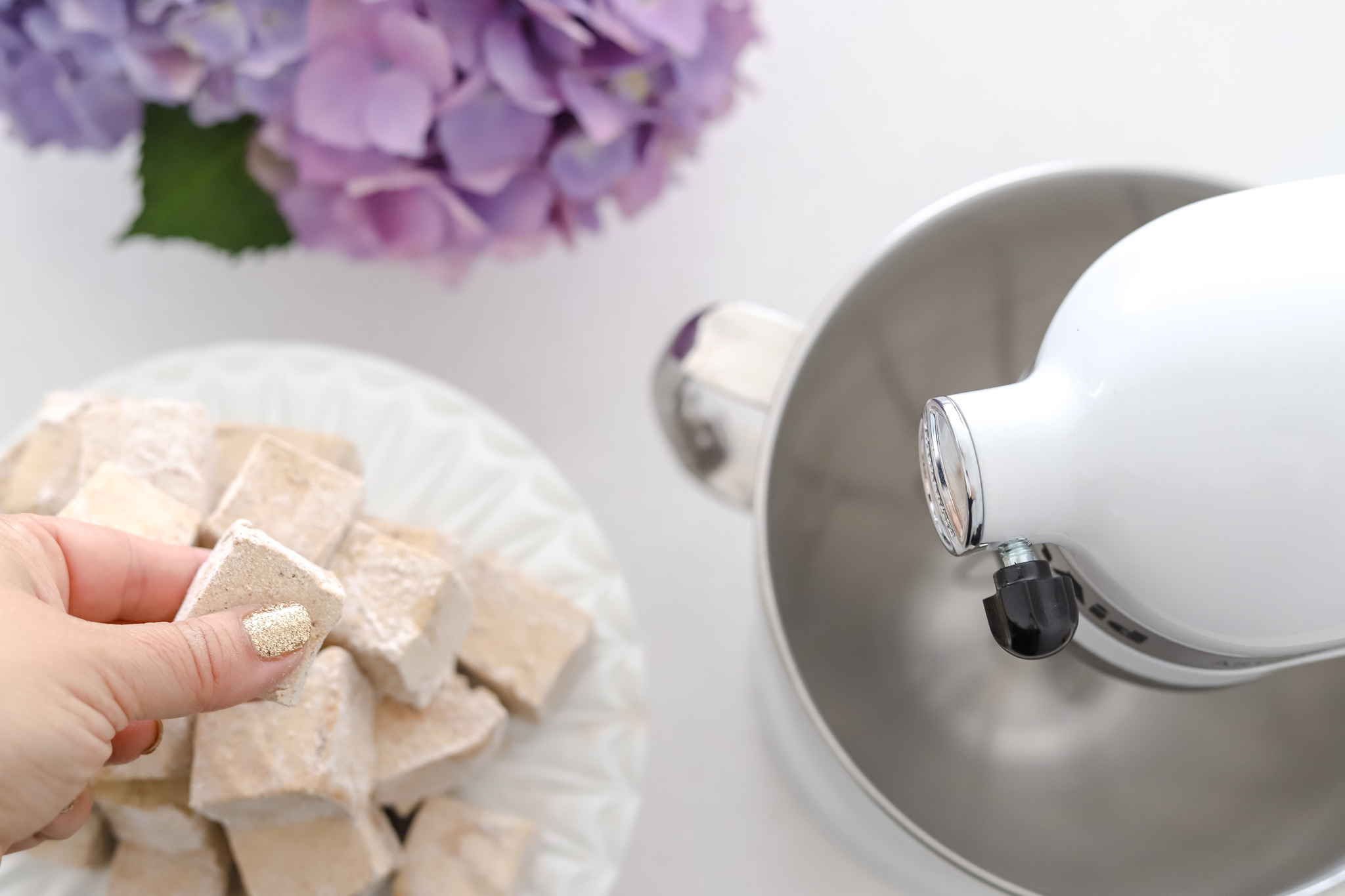 GINGERBREAD MARSHMALLOW
Ingredients
3

tablespoons

gelatin powder

½

cup

cold water

1 ½

cups

white sugar

¾

cup

glucose syrup

2

tablespoons

molasses

¼

cup

honey

½

cup

water

1

tablespoon

vanilla extract
GINGERBREAD SPICE MIX
2 ½

teaspoons

cinnamon

1

teaspoon

ginger

½

teaspoon

nutmeg

¼

teaspoon

cloves
POWDER COATING
½

cup

icing sugar

¼

cup

cornflour

2

teaspoons

cinnamon

½

teaspoon

ginger

¼

teaspoon

nutmeg

¼

teaspoon

cloves
Instructions
Mix the gelatin and cold water together in a stainless steel bowl, pop aside.

Oil a 20cm X 30cm rectangle baking dish and line with baking paper.

In a medium-sized pot add the sugar, glucose, molasses, honey, and a second serving of water.

Using a candy thermometer, heat the sugar syrup to 250F then remove from the heat.

Pour the hot sugar syrup into the kitchen aid bowl, allow to cool for about 10 minutes until the thermometer reads 210F.

While the syrup is cooling, melt the gelatin mixture over a hot water bath. Giving it a few stirs.

Once the syrup reaches 210F add in the melted gelatin.

Start whipping with the whisk attachment the combined mixtures on the Kitchen aids highest speed until very light.

After about 6 minutes of beating and the marshmallow forms soft peaks, add in the vanilla extract and gingerbread spice mix until well combined.

Using an oiled silicone spatula, spread the mixture evenly into the prepared oil baking dish.

Allow the marshmallow to set on the bench with a tea towel covering for at least 2 hours.

Stir together the coating mix.

Cut the marshmallow into small cubes using an oiled large knife.

Coat each marshmallow piece in the spiced coating.
Recipe Notes
Store in an airtight container for a week or two.